Parliamentary session in Kutaisi was disrupted for about half an hour when scuffles broke out between lawmakers on December 26.
MPs were discussing re-distribution of seats in the Georgian delegation to the Parliamentary Assembly of Council of Europe (PACE), when in his speech during debates opposition lawmaker from UNM party, Akaki Bobokhidze, used f-word in address to GD ruling coalition MPs.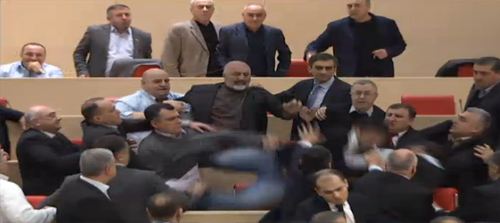 Trying to reach and hit UNM MP Akaki Bobokhidze, GD MP Zurab Zviadauri, who won Olympic gold in judo in 2004, jumps over desks during fistfight in Parliament chamber in Kutaisi on December 26, 2014.
Insults and swear words started flying, followed by fistfight between several UNM and GD lawmakers at various parts of the chamber with others trying to distance quarrelling colleagues from each other. Some MPs were tearing off microphones from desks and tossing and hitting them at opponents.
Parliament speaker, Davit Usupashvili, who was calling in vain on the colleagues for calm during the confrontation, called on the parliamentary majority MPs after the session resumed not to yield to "provocative" and "irresponsible" actions, referring to remarks of MP Bobokhidze.
"It is impossible to leave such incidents without reaction. All the measures envisaged by the parliamentary regulations should be applied," Usupashvili said.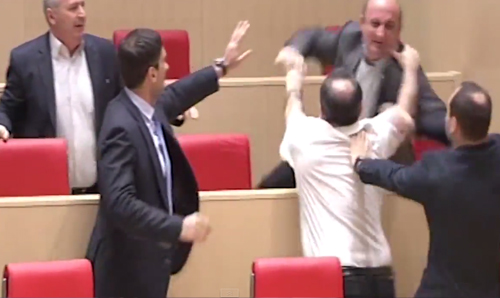 GD MP Davit Lortkipanidze try to hit UNM MP Petre Tsiskarishvili as their colleagues from GD and UNM tries to distance them from each other.
Voting was held and new distribution of seats in PACE delegation was endorsed. Re-distribution of seats, which was debated before the fistfight erupted in the chamber, was stemming from withdrawal of Free Democrats (FD) faction from the GD ruling majority group.
FD, as a newly formed opposition faction in the Parliament, gained a seat in the PACE delegation at the expense of reducing UNM's two seats to one – the move, which was opposed by UNM opposition party. GD parliamentary majority group retained its three seats in the five-member delegation.