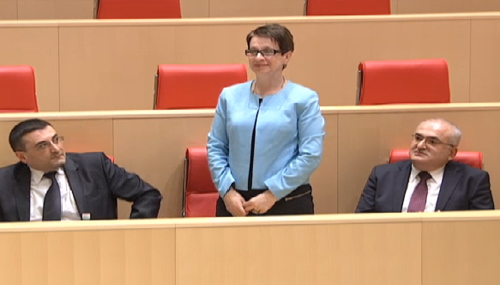 Nino Gvenetadze has become the first ever female chairperson of Georgian Supreme Court; also on March 20 parliament confirmed Merab Turava (right) as a new member of Constitutional Court. President's parliamentary secretary Giorgi Kverenchkhiladze (left) also seen on this screengrab from video of the parliamentary session on March 20.
Parliament confirmed Nino Gvenetadze as new chairperson of the Supreme Court for a ten-year term with 88 votes on March 20.
Gvenetadze, who has become the first ever female chairperson of the Georgian Supreme Court, replaced Kote Kublashvili, whose term in office expired last month.
Gvenetadze, who was nominated by President Giorgi Margvelashvili after a month-long selection process, was backed by most of the GD ruling coalition lawmakers, as well as by opposition Free Democrats MPs; UNM opposition party was strongly against.
She was confirmed by the Parliament with 12 votes more than required minimum of 76.
For Gvenetadze it is a comeback to judiciary; she served as a judge of the Supreme Court from 1999 till December, 2005 before she was sacked following judicial disciplinary commission's decision, which accused her of misconduct. Gvenetadze and several other judges, also dismissed at the time, argued that it was retaliation for their resistance to yield to pressure exerted by the authorities and then chairman of Supreme Court Kote Kublashvili. Gvenetadze and several other judges spoke out publicly about what they called pressure on judges in November, 2005.
Also on March 20, one of those former judges, who along with Gvenetadze and some others, spoke out against "pressure" on judges in 2005, Merab Turava, was confirmed by the Parliament with 84 votes to 1 as a member of the Constitutional Court. Turava's candidacy was re-nominated by the Georgian Dream-Democratic Georgia parliamentary faction as during the first vote in late December, 2014 he failed to garner enough votes.
During her nomination hearings in the parliamentary committees in late February, Gvenetadze told lawmakers that in case of confirmation, she was intending to return to the judiciary with an intention of "cooperation" to help increase standards and not with an intention of "revenge."
"I am holding no grudge; I am willing to cooperate and communicate with judges, and to stand firmly for protection of their rights," Gvenetadze said, but also added that "judges should change existing standards and overcome problems of the past."
UNM lawmakers, who did not take part in the vote on Gvenetadze's nomination, were strongly against of the candidacy, citing several reasons; one of them was her affiliation with the Republican Party of which she was a member in 2008-2012. UNM lawmakers were also saying that Gvenetadze was a judge of the Supreme Court when the judiciary was engulfed in the corruption; they also argued that Gvenetadze stood behind the Supreme Court's statement in 2003, calling on the prosecutor's office to probe into investigative TV program on Rustavi 2 channel. In an interview with Tbilisi-based Tabula TV Gvenetadze distanced herself from that statement and said that she was not even aware at the time that such statement was released by the Supreme Court's press office.