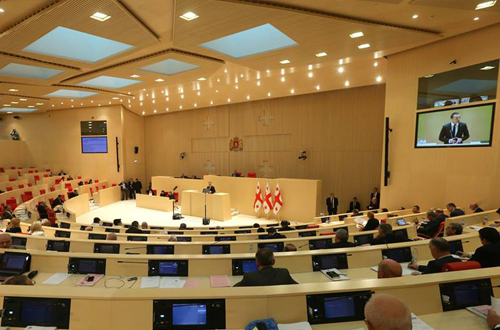 PM Irakli Garibashvili address lawmakers during confirmation hearing in Parliament chamber in Kutaisi on May 8, 2015. Photo: parliament's press office
Parliament confirmed after midnight on Saturday reshuffled government, led by PM Irakli Garibashvili, with 87 votes to 38.
Reshuffled cabinet, which won Parliament's confidence vote with backing of Georgian Dream parliamentary majority group after two-days of hearings, has four new members – ministers of defense, infrastructure, sport and environment.
Opposition lawmakers from the United National Movement (UNM) and Free Democrats (FD) parties voted against.
New minister of infrastructure and regional development Nodar Javakhishvili was appointed on April 21, replacing Davit Shavliashvili, and three other new ministers were appointed on May 1.
Tina Khidasheli, 41, who up until now was a Georgian Dream (GD) lawmaker from the Republican Party, has become Georgia's first ever female Defense Minister. Khidasheli, who is married to parliament speaker Davit Usupashvili, has replaced Mindia Janelidze on the post, which the latter held since November, 2014 after previous defense minister Irakli Alasania was sacked.
Another Republican Party lawmaker from the GD ruling coalition Gigla Agulashvili was appointed as Minister of Environment and Natural Resources Protection, replacing Elguja Khokrishvili.
Tariel Khechikashvili, co-owner of one of Georgia's largest auto trader Iberia Business Group and founder of a football club Saburtalo in Tbilisi, was appointed as new Minister of Sport and Youth Affairs.
Other ministers remain unchanged in the cabinet:
Energy Minister and deputy PM – Kakha Kaladze;
Minister of Economy and Sustainable Development and deputy PM – Giorgi Kvirikashvili;
Minister of Finance – Nodar Khaduri;
Minister for Labor, Healthcare and Social Affairs – Davit Sergeenko;
Minister of Justice – Tea Tsulukiani;
Minister of Internal Affairs – Vakhtang Gomelauri;
Minister of Foreign Affairs – Tamar Beruchashvili;
Minister of Agriculture – Otar Danelia;
Minister of Culture – Mikheil Giorgadze;
Minister for IDPs – Sozar Subari;
Minister of penitentiary system – Giorgi Mgebrishvili;
Education Minister – Tamar Sanikidze;
State Minister for European and Euro-Atlantic Integration – Davit Bakradze;
State Minister for Diaspora – Gela Dumbadze
State Minister for Reintegration – Paata Zakareishvili;
Before the confidence vote, held after lengthy debates at 2:25am local time on May 9, the Parliament revoked on May 8 MP credentials of Tina Khidasheli and Gigla Agulashvili, who took cabinet posts.
It means that by-election should be held in October in Sagarejo single-mandate constituency in eastern Georgian region of Kakheti to fill the majoritarian MP seat in Parliament, which was held by Khidasheli. Agulashvili, who was elected in the Parliament in 2012 through party-list, proportional system, will be replaced in the Parliament by another Republican Party member from the GD coalition's list.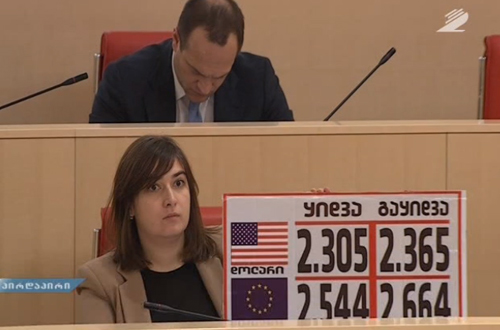 A screengrab from television footage of opposition MP from UNM party, Chiora Taktakishvili, holding a poster showing GEL exchange rate against U.S. dollar and euro during government confirmation hearing in the Parliament chamber in Kutaisi. Economy and depreciation of the Georgian currency was one of the key issues debated during the hearings.
"Your renewed vote of confidence will give us additional momentum to continue with new energy our efforts for achieving goals for which the Georgian people elected us," PM Garibashvili told lawmakers during the hearing.
"Today we live in the country where our citizens are no longer afraid to express their opinion, where inmates are not killed and tortured, where business is no longer terrorized where government hears voice of the people… where police and army are de-politicized and media is free from state control," Garibashvili said.
"Time has come to move to the stage of development where citizens will have new opportunities for employment and where each and every citizen can benefit from results achieved in healthcare, agriculture, economy, education or in other sectors," he said.
"We are moving to a very important stage. Our government is doing everything to make the process of Europeanization and modernization irreversible," the PM said.
Economic situation amid depreciation of Georgian currency, lari, which lost over 32% of its value against U.S. dollar since November, dominated debates.
PM Garibashvili and lawmakers from the Georgian Dream parliamentary majority group were insisting that weakening of lari was caused solely by external factors, involving strengthening of U.S. dollar, recession in Russia and conflict in Ukraine. Opposition MPs were criticizing the government for being unprepared for external shocks, which became obvious from autumn of last year when exports and remittances started declining.
Some of the GD lawmakers, who spoke during the debates, were saying that if there is any internal factor to be blamed for a failure to prevent depreciation of the currency, the central bank should be first of all scrutinized. In recent days some GD MPs floated idea of possible parliamentary probe into the role of the Georgian National Bank, which was criticized by its President Giorgi Kadagidze as an attempt to exert pressure on him to start selling dollars excessively from the reserves to help lari recover. Echoing position of ex-PM Bidzina Ivanishvili, PM Garibashvili said during the parliamentary hearings that the central bank should have "intervened more actively" by selling more dollars from its reserves. The central bank sold total of USD 200 million at a foreign currency auction this year.
UNM MP Zurab Japaridze said that under this government the economic situation is "doomed to further worsen" because the government "has no idea what is economy and how economy works."
"The only exception in the government is [Economy Minister Giorgi] Kvirikashvili, but unfortunately no one [in the government] listens to him," MP Japaridze said.
Many opposition lawmakers both from the UNM and FD parties were also criticizing the government for not admitting that there is "economic crisis" in the country.
"This government led the country into the economic crisis… But the government is stubbornly refusing to admit that there is crisis," FD MP Nino Goguadze said.
"Georgia needs a government which will admit that there is a crisis and which will carry out anti-crisis measures," UNM MP Giorgi Vashadze said, referring to UNM's proposal involving cutting income tax from 20 to 15%; reducing value added tax from 18 to 16%, as well as scrapping tax from dividend and excise tax on fuel.
"I have not read [UNM's] anti-crisis plan and have no desire whatsoever to read it," PM Garibashvili said.
During the parliamentary hearings Economy Minister, Giorgi Kvirikashvili said that the government plans to unveil "tax liberalisation" plan within a month; Kvirikashvili did not specify, but he was apparently referring to a proposal, which was first voiced by the government in March and which involves scrapping of corporate income tax on reinvested profits.
In his speech parliament speaker, Davit Usupashvili, said that there were three major challenges facing the country and the government. The first one, he said, is security challenges and added that there is "no sign that existing security threats in the region will recede."
"In these circumstances we have no right to allow any kind of political instability in the country," he said. "Environment in the region is extremely unpredictable… so first and foremost I ask the reshuffled cabinet to pay special attention to this issue."
"Second – we should finalize very important reforms before the next parliamentary elections [planned for 2016]," Usupashvili said and listed reform of the interior ministry, prosecutor's office, as well as reform of the electoral system among them.
"Electoral [system] reform will definitely be implemented, and it will be done very soon," Usupashvili said in response to FD MPs' criticism that the GD was failing to deliver on its promise to reform existing electoral system, in particular its majoritarian component.
"We promise that all these reforms will be finalized ahead of the 2016 parliamentary elections and we will be the most successful authorities Georgia has ever had in terms of democratic and institutional development," Usupashvili said and added that the third major challenge was economy and job creation.
Usupashvili, who is one of the leaders of the Republican Party, also said in his speech that appointment of two Republicans in the cabinet was demonstration that there is now "more strategic cooperation" within the GD ruling coalition.
"We have to admit that after the [2014] local elections there were certain shortcomings in work of the coalition," Usupashvili said.