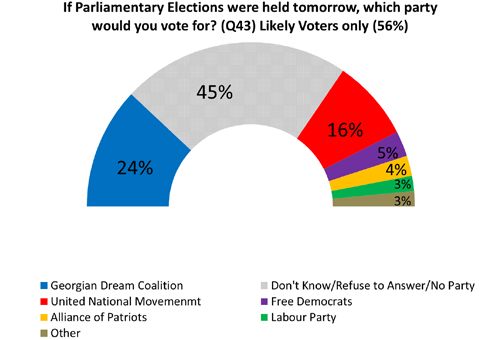 Source: NDI/CRRC public opinion survey, April, 2015
One-third of likely voters are either undecided or have no preferred political party, according to a public opinion survey commissioned by the U.S. National Democratic Institute (NDI), which also shows decline in support for ruling Georgian Dream (GD) coalition.
27% of likely voters said they did not know which political party they would vote if parliamentary election were held tomorrow; 6% said they would not vote for any of the party.
12% refused to answer, according to the poll fielded by the Caucasus Resource Research Centers (CRRC) on March 27-April 19.
GD ruling coalition had 24%, followed by parliamentary opposition parties United National Movement (UNM) and Free Democrats (FD) with 16% and 5%, respectively. Alliance of Patriots of Georgia had 4% and Labor Party – 3%.
No similar question about parliamentary elections was asked in a similar survey in August, 2014, just after the local elections won by GD; but respondents were asked in both polls "which party is closest to you."
On this question in the recent poll 35% of respondents said "no party", up from 30% in August 2014; Georgian Dream party (leading party in the GD ruling coalition) was named by 21%; in the previous survey in August 2014, when Free Democrats was also part of the ruling coalition, GD coalition was named by 42%. UNM was identified in the recent poll as the political party "closest" to them by 13%, statistically the same as in August, 2014.
"The electoral playing field is wide open and no party is strongly ahead in Georgia," Laura Thornton, NDI's senior director in Georgia, said on May 13, when the poll was released. "Georgians are undecided about their political support, presenting an opportunity for all parties to spend the next year and a half leading up to the parliamentary elections earning citizens' backing through responsive platforms and policies."
Head of the Georgian Orthodox Church, Patriarch Ilia II, has the highest approval rating with 87%.
Among the politicians, President Giorgi Margvelashvili leads with 52% approval rating, followed by leader of opposition Free Democrats party Irakli Alasania (51%); parliament speaker Davit Usupashvili (45%); UNM parliamentary minority group leader MP Davit Bakradze (44%) and PM Irakli Garibashvili (40%).
59% of respondents believe that ex-PM Bidzina Ivanishvili continues to be a decision-maker in the actions of the government. Majority of respondents think Ivanishvili should either return to politics in an official capacity (30%) or not be involved in decision-making at all (41%). Only 6% believed he should make decisions in an unofficial capacity.
The public opinion survey also shows decline in performance rating of some institutions. Police's performance has dropped significantly down to 33% from more than 60% in 2010; only 10% of respondents rate favorably the work of the Parliament.

Among the ministries, Healthcare and Social Affairs Ministry has the highest performance rating with 43%, followed by the Ministry of Justice – 26%. The Ministry of Finance is perceived as having the poorest performance (6%).
The survey was conducted through nationwide face-to-face interview with 4,360 respondents and has a margin of error plus, minus 2.3%.
Political ratings are part of a broader public opinion poll, which includes survey on respondents' attitudes towards wide range of issues, which was released by NDI earlier this week.