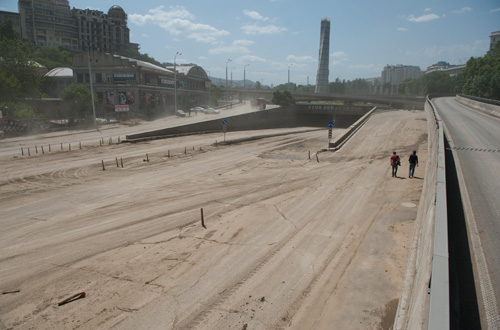 Heroes' Square, June 15, 2015. The authorities hope to complete clearing up of the square on Monday to allow traffic there from Tuesday. Photo: Eana Korbezashvili/Civil.ge
Damage caused by the deadly flood in Tbilisi is "much higher" than the initial estimate of GEL 40 million (USD 18m), Finance Minister Nodar Khaduri said on Monday.
The precise estimation is still ongoing, he said.
The clearing of flood-affected areas from mud and debris continue. Volunteers are turning out in large numbers to help with clearing operations in some of the worse hit areas, among them the zoo, Heroes' Square, Svanidze street and Mziuri Park.

Tbilisi mayor Davit Narmania said clearing of the Heroes' Square should be over before the end of the day to allow traffic there from Tuesday.
It is not yet clear how long it will take to restore heavily damaged Chabua Amirejibi highway, which links Vake-Saburtalo road to the Heroes' Square. "It will take long," Narmania said.
Closure of these major roads is causing traffic jams in other streets in the capital city, where traffic was intense even before the disruption of major thoroughfares.
Monday has been declared a non-working day and the authorities are calling on people to refrain from using their cars if there is no urgency.
June 15 has also been declared as the national day of mourning for those who have lost their lives in the flooding. At least 12 people died and least dozen of others are missing.