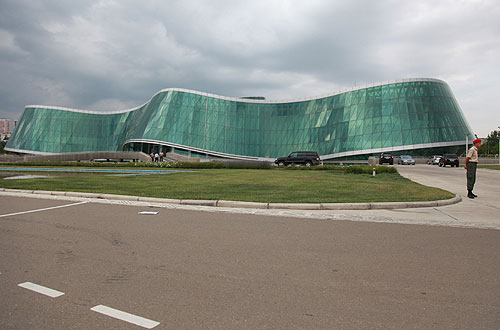 File photo of Interior Ministry's headquarters in Tbilisi
President Giorgi Margvelashvili has signed bill on decoupling security and intelligence agencies from the Interior Ministry into law.
The voluminous package of bills, which was approved by the Parliament earlier this month, envisages setting up of the State Security Service from August 1.
"The Georgian President believes that this law is the beginning, but not sufficient step and the reform should continue in the nearest future promptly and in a well-thought-out manner," Kakha Kozhoridze, president's adviser for human rights and legal affairs, said on July 15.
One of the main concerns voiced by several civil society and human rights groups about the package of bills was related to potential duplication of functions between the Interior Ministry and the planned State Security Service. The rights groups argue that the scope of the planned security agency's authority should only be analytical and intelligence gathering functions, because giving security agencies investigative powers and the right to carry out other law enforcement tasks would pose a risk of abuse of power and duplication of traditional police activities.
Counter-intelligence, counter-terrorism, security and anti-corruption units of the planned new agency will be empowered with investigative functions and will also have the right to carry out detentions. Although the package of bills were amended in the process of parliamentary hearings to minimize possible duplication of traditional police functions, representatives of the civil society organizations say that concerns in this regard still remain.
The law will go into force after it is published on the state online registry of legal acts.
Within five days after the law goes into force, PM Irakli Garibashvili will have to name head of the State Security Service, which will unite some of those units, which are currently within the Interior Ministry; those units are: counter-terrorism center; counter-intelligence; anti-corruption agency; operative-technical department, which is eavesdropping agency in charge of surveillance operations, and special operations department.
After receiving endorsement of cabinet members, a candidate will be formally nominated for confirmation in the Parliament. The legislative body will have 2 weeks to consider the nomination.
A candidate will need support of at least 76 MPs to be confirmed as head of the State Security Service for a six-year term.
If a candidate is voted down by the Parliament, the same candidate can be re-nominated, but if rejected by lawmakers again, another candidate should be selected.
If the Parliament fails to confirm a candidate of the agency by August 1 – the date when the State Security Service should be established, the PM will appoint an acting head, who will serve before approval of a candidate by the legislative body.