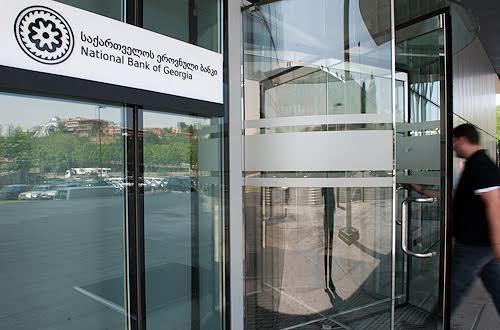 A man enters into office of the Georgian National Bank in Tbilisi, June 29, 2015. Photo: Eana Korbezashvili/Civil.ge
Parliament passed with its third and final reading on July 17 bill removing banking supervisory functions from the National Bank of Georgia (NBG) and transferring them to a separate agency.
The bill, which was passed with second reading a day earlier, got its final approval on Friday with 80 votes to 19.
The proposal has drawn criticism from international financial institutions, business associations, opposition parties, a group of civil society organizations and from the central bank itself.
President Giorgi Margvelashvili has indicated in late May that he would veto the bill.
If vetoed the GD is well placed to override it as the ruling coalition holds 86 seats in the legislative body; at least 76 votes are needed to overturn a presidential veto.
Although the bill has been amended, as Parliament speaker Davit Usupashvili said on July 16, to put it in line with international financial institutions' recommendations, the key principle of removing banking supervision from the NBG remained unchanged.
In a joint letter late last month to PM Irakli Garibashvili and Parliament Speaker Usupashvili the International Monetary Fund (IMF); European Bank for Reconstruction and Development (EBRD); Asian Development Bank (ADB), and the World Bank said in "Georgia's case, moving banking supervision out of the NBG does not seem prudent."
"Our best advice is to keep banking supervision inside the NBG," reads the letter.
The bill envisages setting up of the Financial Supervisory Agency, which will be in charge of monitoring and oversight of banking sector and other financial institutions; these functions are currently carried out by departments, which are part of NBG.
According to the bill, the planned Financial Supervisory Agency will be governed by a seven-member board. President of NBG and one more member of central bank's board will take two seats; five other seats will be occupied by candidates nominated by the government and confirmed by the Parliament. The head of the agency will be nominated by the board members and confirmed by the parliament.

Co-sponsor of the bill MP Tamaz Mechiauri, who chairs parliamentary committee for finance and budgetary issues, said during the debates on July 16 that the proposal will help to increase "confidence" towards the central bank. Mechiauri, a fierce critic of central bank president Giorgi Kadagidze, also said that after the new system is introduced "fluctuations in lari's exchange rate will no longer depend on one man's wishes" – a reference to his suggestions that the central bank's policies should also be blamed for lari depreciation along with external factors.
One of the main reasons of criticism of the bill is that, according to opponents, the proposal is motivated by political rather than economic reasons. The bill was initiated last month amid attacks from the GD senior politicians against NBG president Giorgi Kadagidze. The central bank chief, whose seven-year term in office will expire in February 2016, has been a frequent target of attacks from GD politicians after the national currency started to depreciate in November 2014 due to the strengthening of the U.S. dollar and the decline of external earnings in the form of reduced exports and remittances.
The lari was mostly stable for about a month till mid-July, hovering around 2.25 per U.S. dollar, 28% weaker than in November 2014, when lari started depreciating.
Lari fell to 2.2718 per U.S. dollar over the past few days.
"We were expecting this [further depreciation of lari]," MP Mechiauri said on July 16, again pointing finger at the central bank.
"After the current board of central bank exhausted all the chances to influence co-sponsors of this bill and to achieve withdrawal of this bill through pressure from various international organizations and various forces, and after they saw that we engaged in consultations with them [international financial institutions] and after taking recommendations from them adoption of this bill became irreversible… they [the central bank leadership] announced that insufficient budget spending cut would cause lari depreciation and in parallel they actually did bring fall in lari's exchange rate. And now they [the central bank] want to shift the blame for this on the government and on this bill," MP Mechiauri said.