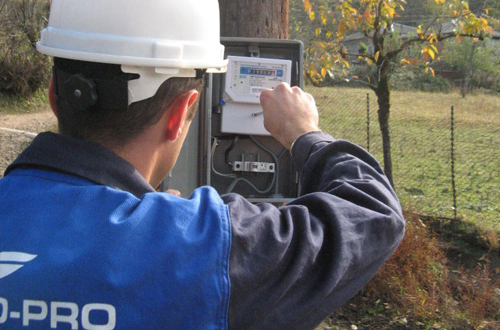 An employee of Energo-Pro Georgia, power distributor company in the regions, installs electricity meter. Photo from the company's website
Over one million customers of Energo-Pro Georgia power distributor company will see electricity tariff increase by 3.95 tetri (about 1.75 U.S. cents) per kWh starting from August 1, prompting the government to consider subsidies for socially vulnerable households.
Energo-Pro Georgia, which is part of the private Czech group Energo-Pro, is the largest electricity distributor in the country with 63% of market share, supplying electricity to customers in the regions, except of Kakheti.
The Energy and Water Supply Regulatory Commission approved tariff hike for Energo-Pro at a session on July 23, but the new tariff falls short of the increase requested by the company, which was citing its surging expenses caused by depreciation of the Georgian currency lari.
A Tbilisi electricity distributor Telasi, in which Russia's state-controlled power trader Inter RAO holds 75.1% of shares, has followed suit and filed a request with the regulator on July 23 also asking for a tariff increase for its customers in the capital city. It too has cited the depreciation of the GEL as the need for the hike. The GEL has lost over 28% of its value against U.S. dollar since November, 2014.
A three-step electricity tariff scheme is in force in Georgia and rates depend on how much electricity is consumed by customers per month.
Georgia's electricity tariff was last revised in January, 2013, when the rate for some category of households were reduced, which was one of the pre-election campaign promises of the Georgian Dream ruling coalition.
After the energy regulator agency's July 23 decision, the first-step tariff for Energo-Pro customers, applying to households which consume less than 101 kWh electricity per month, will go up from current 9 tetri (about 4 U.S. cents as of July 23) to 12.95 tetri (about 5.75 cents). This first-step tariff also applies to those households, who have no individual meters and are connected to common electricity meters. With this increase the first-step tariff will now go back to its pre-2013 level when it stood at 12.98 tetri.

The second-step tariff, applying to customers who consume between 101 and 301 kWh electricity per month, will be 16.93 tetri per kWh instead of current 12.98 tetri. The increased tariff is slightly more than pre-2013 tariff of 16.52 tetri.
The third-step tariff, applying to customers who consume more than 301 kWh of electricity per month, will increase from current 17.5 to 21.45 tetri per kWh. Tariff decrease did not apply to this category of consumers in 2013.
"This is a fair tariff, which will guarantee uninterrupted and reliable electricity supply to customers," said Irina Milorava, chairperson of the Energy and Water Supply Regulatory Commission.
She added that the tariff increase was caused by a hike in distributor company's expenses for purchasing imported electricity and electricity generated by gas-fired power station, attributed to depreciation of lari.
In a separate decision on July 22, the regulatory commission authorized tariff increase on electricity generated by gas-fired power plants, operated by three companies, one of which is Energo-Pro's subsidiary. Energo-Pro Georgia also operates about dozen of small and medium-sized hydro power plants.
Speaking at a government session earlier on July 23, PM Irakli Garibashvili said: "If the tariff is changed and increased, the government will do everything in order to ease burden for the people and there definitely will be subsidies for socially vulnerable families, for those who need it most."
The government has yet to elaborate a detailed scheme on how the increased tariff will be subsidized and how much funding it will require from the state budget.