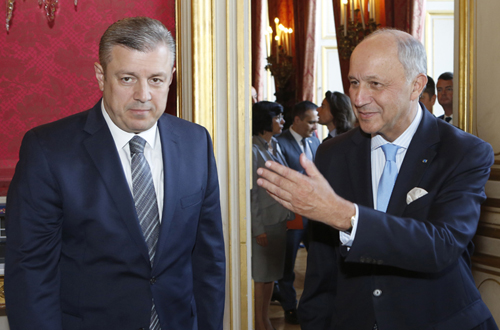 Georgian Foreign Minister Giorgi Kvirikashvili (right) and French Foreign Minister Laurent Fabius (left), Paris, September 23, 2015. Photo: Foreign Ministry of France
Georgian Foreign Minister Giorgi Kvirikashvili met his French counterpart Laurent Fabius in Paris on September 23.

The Georgian Foreign Ministry said "importance of further French support towards Georgia's European and Euro-Atlantic integration process, effective implementation of Georgia's Association Agreement with the EU and visa liberalisation process was stressed" during the meeting.
"On visa liberalisation we conveyed our main message that Georgia has done its homework fully and that migration problem in Europe, stemming from crisis in the Middle East, should not affect Georgia's visa liberalisation process," Foreign Minister Kvirikashvili said.
"The French Foreign Minister has accepted this message positively and also assessed positively reforms carried out by Georgia in frames of visa liberalisation [action plan]," Kvirikashvili said.
The next, fourth report on how Georgia is implementing its Visa Liberalisation Action Plan, a detailed set of reforms required for a country to implement in order to be granted short-term visa free travel rules in the Schengen area, is expected from the European Commission by the end of this year. Officials in Tbilisi hope that it will be the final report in which the Commission will recommend granting visa free regime for Georgian citizens.
The Georgian Foreign Ministry said that bilateral cooperation in defense sector, as well as regional security, relations between Georgia and Russia and situation in Georgia's occupied regions were also discussed during the meeting between the French and Georgian foreign ministers.
The French Foreign Ministry said that strengthening bilateral relations, as well as Georgia's "cooperation with the EU and NATO" and issues related to December's climate change conference in Paris were discussed.