PM condemned Russia's 'creeping annexation' of Georgian territories;
He said Georgia made 'dramatic progress' in recent years;
'We will stay the course on reform';
NATO – 'a core element of Georgia's security';
'Strong economic and trade relationship with China'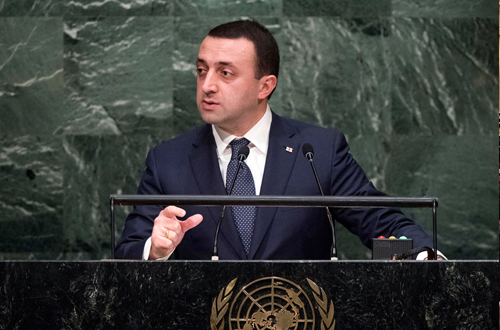 Georgian PM Irakli Garibashvili addresses the general debate of the General Assembly's 70th session in New York, October 1, 2015. UN Photo/Cia Pak
Addressing the UN General Assembly on October 1, PM Irakli Garibashvili said Georgia's "future is bright" and highlighted, as he put it, "progress in every policy area" made by the government.
In a 20-minute UN speech, his second one since taking PM's post two years ago, Garibashvili spoke on issues ranging from economy, education, healthcare and foreign policy to sports, and also wished success to the Georgian national rugby team when they face New Zeeland at the World Cup on Friday.

He condemned Russia's "creeping annexation" of Georgia's territories, but also reiterated Tbilisi's readiness to forge "constructive", "responsible and pragmatic relations" with Moscow.
In other foreign policy issues, he reaffirmed Georgia's NATO aspirations, mentioned "developing strong" relations with China, and welcomed Iran nuclear deal saying that it would hopefully contribute "to greater security and economic development in the region".
President Giorgi Margvelashvili, who is also in the United States and who has previously indicated that it would have been better if he addressed the UN General Assembly instead of the PM, welcomed Garibashvili's UN speech for voicing "support towards Georgia's Euro-Atlantic course, democratic values, economic freedom and strengthening of state institutions."
'Dramatic Progress'
The PM started his speech by speaking about Georgia's progress in the World Bank's latest Worldwide Governance Indicators, a survey which measures governance based on factors like accountability; political stability; government effectiveness; regulatory quality; rule of law, and control of corruption.
Noting that Georgia "jumped" in rankings in all these six indicators since 2012, the PM said that this "dramatic progress underscores the determination of my government to strengthen the rule of law and media freedom, build a modern economy, and move our nation forward with confidence."
"We will stay the course on reform, which is the only road to peace and prosperity of our country," he said. "We have created a system of governance that is more open, more transparent and more accountable to the people than ever before."
"But we will not rest. More must be done," he said.
When speaking about economy, he said that "since 2014, we have added 90,000 new jobs in Georgia covering all sectors, including agriculture, manufacturing, tourism, and energy."
According to the Georgian state statistics office, Geostat, number of people employed in business sector declined from 565,900 in 2014 to 547,700 in the second quarter of 2015.
'Creeping Annexation'
The PM said that while making progress in broad range of areas, Georgia still faces challenges to its security at home as Russia "continues to illegally extend its control over Georgian sovereign territory."
"I condemn this creeping annexation and Russia's disregard for international law," he said.
"A tragic result is that the local population in the occupied territories of Georgia [Abkhazia and South Ossetia] are robbed of the fundamental rights of a free people."
"De facto authorities recently undertook additional measures to suppress [inaudible] Georgians' right to be educated in their mother tongue," he said, referring to predominantly ethnic Georgian populated Gali district of breakaway Abkhazia.
"The freedom of movement and the basic rights of a free nation are crushed along with the hopes and dreams of hundreds of thousands of victims of ethnic cleansing who only wish to return to their places of origin," Garibashvili said.

He said that against of the backdrop of "continued Russian occupation," the Georgian government has "nevertheless been clear on the need to forge responsible and pragmatic relations" with Russia.
"To that end, we have taken a number of constructive concrete steps to advance trade, transport communication, humanitarian contacts, and tourism when and where possible with Russia."
"But let me be clear: relations with Russia cannot be settled at the expense of our sovereignty and territorial integrity," the Georgian PM said. "I hope that the Russian Federation will finally fulfill its international obligations, including the August 12, 2008 ceasefire agreement and act as a responsible member of the international community."
Addressing residents of breakaway Abkhazia and South Ossetia, he said: "My brothers and sisters, I firmly believe that no one will rewrite history and erase our common past. All attempts to cut off our ties and divide our peoples will fail."
He said that people living in Abkhazia and South Ossetia will benefit from Georgia economic growth "soon", as well as from Georgia's Association Agreement and visa liberalization with the EU.
NATO – 'Core Element of Georgia's Security'
Speaking about Georgia's contributions to NATO-led mission in Afghanistan and EU's mission in the Central African Republic, PM Garibashvili said Georgia has shown "repeatedly that it is prepared to pay more than its fair share to promote a secure international environment."
"Our soldiers are among the world's best," he said. "They are the pride of our nation. We honor them."
He said that "ever deepening relationship with NATO" is a "core element of Georgia's security".
"The steady arc of our Euro-Atlantic path reflects Georgia's strong European identity and values," Garibashvili said.
'Revitalization of the Silk Road'
In his UN speech last year, Garibashvili announced about the launch of the Tbilisi Silk Road Forum, which is now scheduled in the Georgian capital for later this month.
Addressing the UN General Assembly on October 1, the PM again spoke about Georgia's strategic location at "a key crossroad linking East with West."
"Revitalization of the Silk Road is an important opportunity to ensure deeper economic and cultural ties between Asia and Europe," he said.
Garibashvili, who visited China in September, also said that Georgia is "developing strong economic and trade relationship with China."
'Misuse of the Veto Rights'
PM Garibashvili said that the international institutions, including the UN Security Council, must be reformed "where necessary."
"The world is still facing unprecedented challenges that require strong political resolve," he said.
"Increasing the role of small states in the Security Council, avoiding the misuse of the veto rights, as well as improving the working methods should be the cornerstone of the reform process," he added.