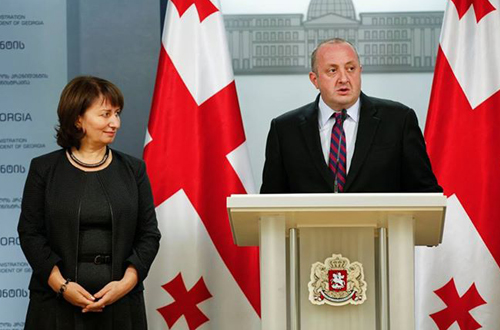 President Giorgi Margvelashvili (right) appointed Pikria Chikhradze (left) as his political adviser, Tbilisi, October 12, 2015. Photo: president's office
President Giorgi Margvelashvili appointed Pikria Chikhradze of the opposition New Rights Party as his political adviser.
Chikhradze, a long-time politician and former lawmaker, said she stepped down as chairperson of the non-parliamentary opposition New Rights Party and as president's adviser she is also "suspending political party activities".
President Margvelashvili said he has shared values with Chikhradze, whom he praised as "a very qualified person with serious political experience."

"The reason why I agreed to become a political adviser at the president's office is because I think – and not only I – that Giorgi Margvelashvili is one of the persons, if not the only, who are taking meaningful and impressive steps towards development of democratic institutions," Chikhradze said.