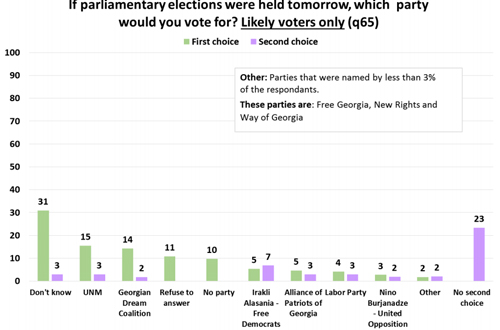 Source: NDI/CRRC public opinion survey, August, 2015
The recent poll shows increase in number of those likely voters who are either undecided or have no preferred political party to 41% amid decline in support for the ruling Georgian Dream coalition, putting the latter neck-and-neck with the opposition UNM party.
Political ratings, released on Saturday, was commissioned by the U.S. National Democratic Institute (NDI) and fielded by CRRC in a period between August 8 and September 10. It has a margin of error plus, minus 3%.
31% of likely voters said they did not know which political party they would vote if parliamentary election were held tomorrow, up from 27% since April poll. 10% said they would not vote for any of the party, which is a 4 percentage points increase compared to April. 11% refused to answer.
The United National Movement (UNM) opposition party had 15% support among likely voters, almost the same as in April poll.
Georgian Dream (GD) ruling coalition's support declined by 10 percentage points since April to 14% in the recent poll.
Free Democrats opposition party, led by ex-Defense Minister Irakli Alasania, and the Alliance of Patriots of Georgia have 5% each.
One of the leaders of the Alliance of Patriots, Irma Inashvili, is running for a majoritarian MP seat in Sagarejo sing-mandate constituency in by-election scheduled for October 31; GD's Tamar Khidasheli is another contender; most of the opposition parties are boycotting MP by-elections.
According to the poll Labor Party has 4% support among likely voters, and Nino Burjanadze's United Opposition – 3%.
Number of respondents who said they would vote if parliamentary elections were held tomorrow declined from 56% in April to 49% in the recent poll.
"As shown in our last poll, the electoral playing field is still wide open and no party is ahead in Georgia," Laura Thornton, NDI"s senior country director in Georgia, said. "Georgians are completely undecided about their political preferences, presenting an opportunity for all parties to spend the next year leading up to the parliamentary elections earning citizens' backing through responsive platforms and policies."