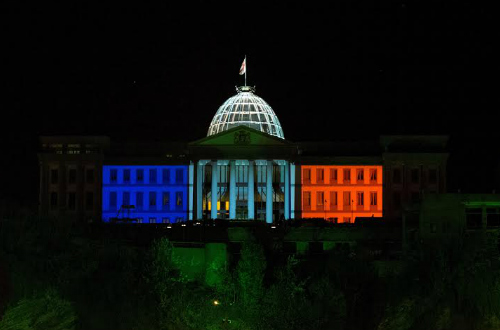 Georgian presidential palace in Tbilisi, November 14, 2015. Photo: president's office
The blue, white and red colors of France's national flag were projected on Saturday night onto the Georgian presidential palace, City Council (Sakrebulo) buildings and Peace Bridge in Tbilisi center to show solidarity with France in the aftermath of terrorist attacks in Paris on November 13.
In their statements on Saturday Georgian leaders condemned series of "horrendous" attacks in Paris and reiterated Tbilisi's support in fight against terrorism.
People were bringing flowers to the French embassy in Tbilisi and dozens gathered outside the Parliament building on Saturday evening to honor the victims of the Paris attacks.