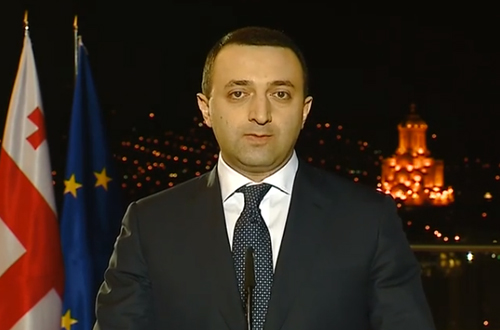 Screengrab from video footage showing Irakli Garibashvili making a televised statement about his decision to resign, December 23, 2015
PM Irakli Garibashvili announced about resignation in a live televised statement on Wednesday evening.
In the five-minute address, Garibashvili, who held prime ministerial post since November 2013 after resignation of Bidzina Ivanishvili, spoke of "historic results" and significant reforms during his tenure, but did not give a specific reason behind the decision to step down.
"Holding an office – be it of interior minister or prime minister, and being in government in general has never been a goal in itself for me," Garibashvili said. "For me this is a mean to serve my country."
"We have young democracy therefore it is of huge importance what kind of example we will set for our children and future generations. Official posts are temporary, God and homeland are eternal. Therefore today I took a decision to leave the post of prime minister," Garibashvili said.
Garibashvili, 33, who worked with Ivanishvili for eight years before going into politics together with Ivanishvili in late 2011, served as the Interior Minister for a year before becoming the PM in November, 2013.
The Georgian Dream ruling coalition has to name a new prime minister, who will then nominate cabinet members to face parliament's confidence vote requiring support of at least 76 MPs.
Garibashvili will remain an acting prime minister before the new government is confirmed by the Parliament; other members of the current cabinet are also acting ministers.
The Georgian media first reported about Garibashvili's intention to announce about resignation earlier on Wednesday; according to those same reports Giorgi Kvirikashvili, who was economy minister and now holds foreign minister's post, is expected to be named as next PM by the ruling GD coalition.
"Each person has a possibility to make a free choice," Garibashvili said in his televised address. "Every step of mine was stemming from the responsibility imposed by this choice – be it when I was making a decision about starting a family, choosing a career or going to politics, when we all got united for saving of the country under the leadership of Bidzina Ivanishvili," Garibashvili said.

"Our struggle in 2012 was crowned with the victory of our people. I am really proud that I was honored to assume a huge responsibility before our country and nation, to continue together with our team the work launched for the welfare of our country," he said.
"Peace and stability, legality and humaneness were established during my prime ministerial tenure. We returned freedom and dignity to our citizens. Due to large scale reforms and unprecedented governmental programs implemented by us, we laid a firm foundation for economic and social welfare."
"We also achieved historical results – we signed the Association Agreement with the European Union and launched free trade; we also received consent on visa-free travel rules for our citizens that made our country's integration into the European family irreversible."

"Today, as never before, a real foundation is being laid for peaceful coexistence with our Abkhazian and Ossetian brothers with human-oriented and pragmatic policy, and with our European perspective," Garibashvili's said.

"We began working on restoration of our country's historic function – Georgia has actively got involved in the international Silk Road project and [Georgia] is now genuinely becoming a link between Asia and Europe."

"After Bidzina Ivanishvili took, I would say, an unprecedented step, and at the zenith of his popularity and influence, quit his post of [the PM in November 2013] upon his own decision, he set an example of how a politician should make useful deeds for the country through timely taking of office, as well as through timely departure from the office," Garibashvili said.
"Now, when internal and external directions of our country have been strengthened, I want to wish success to our future Prime Minister," he said without indicating who might be named as the next PM.
"First of all, I want to thank each citizen of our country, our dear people; I want to thank our devoted co-fighters for their cooperation and support, everyone," he said and also thanked his wife and three sons.

"My dream was, is and will always be strong and united Georgia with economically strong Georgian people. Today I resign, but I remain a dedicated soldier of my motherland. God bless our motherland and our proud and strong Georgian nation," Garibashvili said.
When the Georgian news agencies started reporting by around noon on Wednesday that Garibashvili was going to announce about resignation, many of those Georgian Dream lawmakers and government officials who were asked by journalists about those reports, were either responding that they were not aware or denying it as a rumor. A senior GD MP Gia Volski was probably the only one who although said that the PM's resignation was not yet decided, but discussions were ongoing over the issue.
An opposition lawmaker from Free Democrats party, Zurab Abashidze, said that he had an impression that "no one, but few people within the ruling coalition, knew about Garibashvili's intention to resign." He said that keeping ruling majority members unaware of such an important decision was yet another indication of Ivanishvili's "informal rule."
A senior lawmaker from the opposition UNM party, Giorgi Gabashvili, said that "nothing is changing in principle" with the resignation of Garibashvili.
"I would call it reshuffle of puppets; Garibashvili has never been an independent figure and leader. He has always been a very energetic executor of Bidzina Ivanishvili's orders… and other government members are Ivanishvili's clerks," MP Gabashvili told Imedi TV.
Some opposition politicians, as well as political commentators, have suggested that the cabinet reshuffle about ten months before the parliamentary elections is possibly made in response to declined public support for the GD ruling coalition.
November poll, commissioned by NDI, showed most of the voters undecided; GD's support among likely voters stood at 18%, which is up by 4 percentage points since August, but 6 percentage points lower than in April, 2015. UNM opposition party had 12% support among likely voters, compared to 15% and 16% in August and April, respectively; Free Democrats – had 7% support, compared to 5% in August and April.