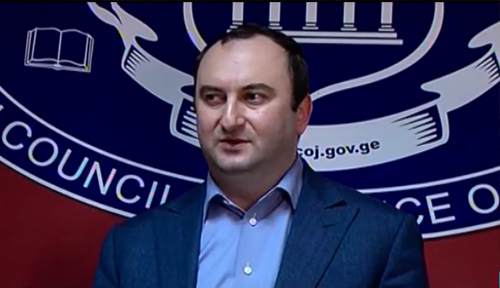 Screengrab from a video footage showing Levan Murusidze speaking with journalists on December 25 after High Council of Justice reappointed him as a judge.
The High Council of Justice (HCoJ), a body overseeing judicial system, met on December 25 and elected 38 judges – some new ones and others were reappointed, including Levan Murusidze, whose reappointment triggered a wave of criticism from many opposition parties, civil society groups and activists.
President Giorgi Margvelashvili, who also joined chorus of criticism, suggested shortly after Murusidze's reappointment as a judge that "struggle" for fair judiciary is far from over and vowed to bring that "fight to the end."
Controversy over reappointment of Murusidze as a judge, who is also secretary of HCoJ, is caused by the fact that in 2007 he presided over 2006 high-profile murder case of Sandro Girgvliani, when this case was heard during the appellate stage in the Supreme Court.
The murder case of 28-year-old Girgvliani in February, 2006 turned into political scandal at the time and since then it had been reemerging time after time in political life all through the rest of previous government's tenure because of allegations that the investigation at the time covered up links of Interior Ministry senior officials to this murder case.
In 2011 ruling, the Strasbourg-based European Court of Human Rights said that the investigation into Girgvliani case "manifestly lacked the requisite independence, impartiality, objectivity and thoroughness." After change of government, Vano Merabishvili, who was the Interior Minister in 2006, was charged with abuse of power for obstructing justice in the Girgvliani case; court found him guilty in 2014. In 2013 ex-President Mikheil Saakashvili described the Girgvliani case as "a black mark" of his presidency – not because he was somehow personally involved, but, as he put it, simply because it happened during his presidency. In November, 2014 prosecutor's office filed criminal charges against Saakashvili accusing him of conspiring with other former senior officials to obstruct justice in the Girgvliani case.
After HCoJ's controversial decision to reappoint Murusidze, the Girgvliani case, however, may now also haunt incumbent ruling political force, the Georgian Dream coalition, because Murusidze would have failed to garner enough votes of HCoJ members if Parliament-appointed and GD-supported members had not voted for him.
It emerged in early December that Levan Murusidze, whose 10-year term as Supreme Court judge will expire in April, was applying for a position of judge in the Tbilisi Court of Appeals. A newly appointed or re-appointed judge can serve before retirement following a three-year probationary period, according to rules introduced in 2013.
A campaign against Murusidze's reappointment was launched by opposition politicians and civil society activists, who back in 2006 were in forefront of protests over the Girgvliani murder case.
They argued that by keeping Murusidze in the judiciary, the current government was making a deal with court system's "old guard" – judges, who were appointed during the previous government, in an attempt to gain influence over the system. An outspoken chairman of the Georgian Bar Association, Zaza Khatiashvili, was describing Murusidze as a "holdover of Saakashvili's regime" and a "pillar of Saakashvili's regime within the judiciary". Ana Natsvlishvili, head of legal advocacy and rights group Georgian Young Lawyers' Association, was saying that a person who "signed odious verdicts", including the one of the Girgvliani case, was failing to meet criteria for being reappointed as judge.
In the run up of the December 25 vote in the HCoJ, Murusidze was actively defending, including in TV political talk shows, his past verdicts. In 2007, when the Girgvliani case was heard by Murusidze in the Supreme Court, lawyer for the Girgvliani family, Shalva Shavgulidze, who is now a lawmaker from the opposition Free Democrats Party, tried in vain to achieve return of the case back to lower court for re-investigation. Murusidze claims that there was no chance to rule otherwise as his hands were tied by faulty legislation.
The Conference of Judges, a self-governing body of judges, held a session on December 20, which adopted a statement throwing support behind Murusidze and condemning campaign against him as an attempt to exert pressure on the judiciary.
"Today at stake is the following key issue, which has been a challenge for the judiciary and country's democratic development for many years already: will those judges, who were appointed/elected during the previous government (that is 90% of all the judges), be able to continue career in the court system for a renewed term… or will they be doomed just because they were not appointed/elected during the incumbent government," reads the statement.
"It is being decided now whether the country wants civilized, western-type judiciary… or we want the system managed through political and other influences, and which is tailored on views of various political forces and their satellite groups," reads the statement of the Conference of Judges.
Politicians from the ruling Georgian Dream coalition, including those who back in 2006 were in the opposition and vocal campaigners for thorough investigation of the Girgvliani case, were mostly tight-lipped during the recent debates over Murusidze's application to be reappointed as a judge. They were refusing from voicing position, citing the need to avoid political interference in the HCoJ.
Although President Giorgi Margvelashvili did not comment publicly on the issue in the run up to the vote in HCoJ, his decision to hold just few days before the vote an award ceremony during which he posthumously honored Irina Enukidze, mother of Sandro Girgvliani who died in 2007, with Queen Tamar Order, was viewed as a clear demonstration of the President's position. The order was handed over to Enukidze's husband Guram Girgvliani, who said in an acceptance speech that if Murusidze was reappointed as judge it would mean that Irina Enukidze's struggle for justice was "worth nothing."
14-member HCoJ gathered on December 25 and approved Murusidze's application for becoming a judge at the chamber of administrative cases of Tbilisi Court of Appeal with 10 votes to 1. At least 10 votes were required for the approval.
Nino Gvenetadze, who is Supreme Court chairperson since March 2015, voted against.
Murusidze, who is secretary of HCoJ, did not participate in a vote over his own candidacy, and remaining seven judge members of HCoJ voted for him.
President-appointed member of HCoJ did not participate in the vote.
One out of those four members, who were appointed by the Parliament with backing of the GD ruling coalition lawmakers, was absent and three others – Eva Gotsiridze, Vakhtang Tordia, and Kakha Sopromadze, voted in favor.
Few hours after the vote, President Giorgi Margvelashvili held a briefing for the press to announce about sending to the Parliament for confirmation GD-nominated new PM-designate; he, however, then continued by speaking about HCoJ's decision to reappoint Levan Murusidze as a judge.
"Unacceptability of such decisions by the society was especially clearly visible in recent days," President Margvelashvili said, referring to the campaign against Murusidze's reappointment.
"This unacceptability has been building up for years, stemming from those cases, which not only got the Georgian public united, but were also striking for the Strasbourg-based court," Margvelashvili said.
He was referring to the Strasbourg-based European Court of Human Rights, which said in its verdict over the Girgvliani murder case that it "is struck by the fact that neither the prosecution nor the domestic courts attempted to clarify" circumstances of the case and "by how the different branches of State power… acted in concert in preventing justice from being done in this gruesome homicide case."

"I want to tell the public that one member of the High Council of Justice – the one appointed by me – walked out of [the meeting before] this vote," President Margvelashvili said.
"Struggle for creating fair judiciary in Georgia continues and I will bring this fight to the end," he added.
Murusidze criticized President's remarks as a "pressure on the judiciary" and thanked those members of the HCoJ, who voted for him "despite of enormous pressure."
"It is essential for the constitutional principle of separation of powers not to remain on paper, but to be applied in real life," he said.

Irakli Alasania, leader of the Free Democrats party, which up until November 2014 was part of the Georgian Dream ruling coalition, said that this decision by the HCoJ "buries the idea of restoration of justice" with which the GD came into power in late 2012.
Alasania said that this decision shows the government "made a deal with Saakashvili-era judges."
He also noted with regret that Free Democrats MPs, when they were part of the ruling coalition, also voted in favor of those Parliament-appointed HCoJ members, who on December 25 supported Murusidze to be appointed as a judge. Alasania called on those members of the HCoJ to quit the Council as they "no longer have the moral right" to continue their membership of the HCoJ.
In a lengthy written statement, explaining their decision to support Murusidze's candidacy, Parliament-appointed three members of HCoJ said it was "extremely unpopular, but the only rational decision in the existing situation."
"It was an extremely difficult decision, which was taken after thorough consideration and lengthy hesitation," Eva Gotsiridze, Vakhtang Tordia, and Kakha Sopromadze said in their joint statement.
"It is impossible to deny that Mr. Murusidze has unfavorable reputation in the society and it was not difficult to foresee sharply negative reaction of the society to the reappointment of Murusidze as a judge."
"Judging only from the point of view of public confidence, his appointment would have been really unjustified, but in the existing situation it was our duty to also take many other factors and circumstances into consideration," they said.
"Unlike public opinion, within the judiciary, whether we like it or not, Mr Murusidze enjoys among judges with distinguished reputation, respect… and unprecedented support," the members of HCoJ said.
"Rejecting Murusidze's nomination would have had a chilling effect on judges and would have been perceived as expression of non-confidence towards all the old judges [reference is made to those judges, who were appointed during the previous government], signaling their gradual sidelining from the judiciary, which would have caused their demoralization, instability and chaos in the judicial system… We thought that the HCoJ could not ignore either position of the vast majority of judges or those threats that were obvious for us," reads the statement.
"We also deemed it important for the High Council of Justice, which is part of the judicial authority, not to burn bridges with judges and to maintain their trust and support without which HCoJ's any initiative would become fruitless," they said, referring to the fact that judge members of the HCoJ, who hold majority of seats in the Council, can block decision making.
"We took the decision not in favor of personally Levan Murusidze, but primarily in favor of stability and sustainability of the court system," the three members of HCoJ said.
"It would be unfair if the HCoJ and the society as a whole make individual [judges] entirely responsible for serious mistakes of the past – they had to operate in completely unhealthy condition of total dominance of procuracy, government pressure and such legislation, which was making judges powerless," reads the statement. "It is welcomed that today judges can openly speak out about the situation in the judiciary, about their rights and ways how to improve the situation. Whether we agree or not with them, it is impossible to deny that this is a healthy trend, indicating on strengthening of the judiciary, which should be supported. Making progress will be impossible through imposing certain approaches on judges by force."
"We pay tribute to all the victims of those tragedies, which were not possible to avoid including because of justice system's failure to be at its proper level and judges' failure to show principled and unwavering stance to deliver justice. But we are against of staging a judgment day for individual judges to make them pay for irreparable consequences of all the wickedness of the system," the three Parliament-appointed members of HCoJ said.
On December 26, chairman of the Georgian Bar Association, Zaza Khatiashvili, organized a meeting of leaders of opposition parties (except of UNM), who have condemned once again HCoJ's decision on Murusidze's reappointment, many of them condemning it as "immoral." Discussion mostly focused on how the opposition parties can respond it with proposals ranging from holding a referendum to disband the sitting HCoJ to legislative amendments that will allow ceasing of membership of those Parliament-appointed members, who voted for Murusidze. No specific decision was taken at the meeting other than to continue consultations.
"We all know that it [reappointment of Murusidze] aims at controlling the judiciary especially ahead of next year's parliamentary elections," Irakli Alasania, the leader of the Free Democrats, said after the meeting.
"Such a decision could not have been taken without approval of [ex-PM] Bidzina Ivanishvili. A person, who can put his signature on everything, has been reappointed as a judge – that's immoral, such decisions do not pass without consequences," Nino Burjanadze, leader of Democratic Movement party, said after the meeting.