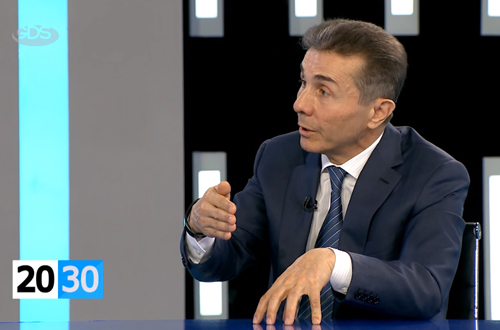 Screengrab from GDS TV's 2030 program showing ex-PM Bidzina Ivanishvili during an interview, December 30, 2015.
Ex-PM Bidzina Ivanishvili said he is personally involved in compiling party-list of MP candidates of the Georgian Dream (GD) ruling coalition and wants to have "new faces" in next parliament to be elected in October, 2016.
In an interview with "2030" program on GDS, Tbilisi-based television channel owned by his son, Bera, Ivanishvili said that he will be involved very actively in GD's activities ahead of next year's parliamentary elections. In the same interview He also spoke about recent changes in the government and controversial decision of the High Council of Justice to reappoint the Girgvliani case judge.
Asked if he will also be involved in compiling GD's party list of MP candidates, Ivanishvili responded: "Yes, I will. I will participate in everything of course."
"I will be involved very actively and help [GD] with all my resources in convincing the society that today it [GD] still remains irreplaceable and that it should [retain] leadership," Ivanishvili said.
Stressing for number of times his respect to current members of the GD parliamentary majority group, Ivanishvili also said that "the team requires to be reshuffled." He said that he has already started the process aimed at selecting "new cadre", adding that it is "desirable to have new faces" in the Parliament.
"The need for that is obvious if you look at the parliament," he said, adding that people capable to engage actively in lawmaking process should be in the Parliament.
Ivanishvili also said that there is no reason to think that the GD coalition will fall apart; he, however, also added that there would be nothing "dramatic" even if some of coalition members quit. The GD coalition will "anyway win with high score" in the elections, Ivanishvili said.
In his previous TV interview in late October Ivanishvili indicated that at least half of the current lawmakers from the Georgian Dream ruling coalition may not make it on the party list of candidates for next year's parliamentary elections.

Speaking on new PM, Ivanishvili described Giorgi Kvirikashvili as "very balanced", who will be a "very successful Prime Minister."
"Giorgi is a good manager – that's a fact," he said. "But will he be a good political leader? That's a question for me too… But I think he will be a successful leader too."
He said that Kvirikashvili, who was economy minister from late 2012 till early September 2015, performed well during his about four-month long tenure as foreign minister and added that Kvirikashvili was also well-received by Georgia's U.S. and European partners.
Kvirikashvili was approved as new PM by the Parliament this week, replacing Irakli Garibashvili, who stepped down without giving specific reason behind his decision other than to say that holding an official post was not a goal in itself for him. Not only opponents, but some GD ruling coalition lawmakers and supporters have called for more clarity. "The version that a person on the peak of career should be stepping down is not convincing; neither it is right," GD MP Gubaz Sanikidze said during parliamentary debates ahead of confirmation of the new PM.
Ivanishvili praised Garibashvili and his decision to resign. "I don't know a problem Irakli Garibashvili has failed to deal with," Ivanishvili said.
Ivanishvili said that Garibashvili had met him for several times for consultations before resignation. He, however, said that resignation was Garibashvili's "personal decision".
He said that many of the Georgian Dream politicians were "confused" by Garibashvili's announcement because they were not aware in advance about his intention to step down. He said that it was because Garibashvili "hurried up" with resignation announcement.
"He resigned at the peak of his success – and that was the reason of his resignation… He resigned for the purpose of resignation itself – to let others to try [the leadership]," Ivanishvili said, adding that Garibashvili has all the resources to even launch his own party if he wishes to do so.

Ivanishvili also spoke about highly controversial decision of the High Council of Justice (HCoJ), a body overseeing judiciary, to reappoint Levan Murusidze as a judge – a highly controversial move, which triggered a wave of criticism from many opposition parties, civil society groups and activists, as well as from President Giorgi Margvelashvili.
Although Ivanishvili said that he too did "not like" this decision, he also tried to downplay it by saying that there was "nothing disastrous" in Murusidze's reappointment as judge, noting that after three-year probationary period a new vote will be required for Murusidze to remain a judge before retirement.
Controversy over reappointment of Murusidze as a judge, who is also secretary of HCoJ stems from the fact that in 2007 he presided over 2006 high-profile murder case of Sandro Girgvliani, when this case was heard during the appellate stage in the Supreme Court. Lawyers for the Girgvliani family tried in vain at the time to achieve return of the case back to lower court for re-investigation. Murusidze claims that there was no chance to rule otherwise as his hands were tied by faulty legislation. The judge at the time also cut the prison terms of those interior ministry officials who were convicted for Girgvliani murder.
Murusidze would have failed to garner enough votes of HCoJ members if Parliament-appointed and GD-supported three members had not voted for him. Many critics of this decision argue that those three members of HCoJ could not have voted for Murusidze without approval from Ivanishvili, fueling speculation that the GD is making a deal with court system's "old guard" – judges, who were appointed during the previous government, in an attempt to gain influence over the system.

Some GD lawmakers have spoken strongly against HCoJ decision over Murusidze. GD MP Gubaz Sanikidze of the National Forum party described it as GD's "serious failure". "We voted for people [referring to Parliament-appointed HCoJ members], who then voted for Murusidze… Virus Murusidze is very dangerous for us," he said.
But some other senior GD lawmakers were less critical, saying that although they were against of such decision, there was nothing they could do about it as it was taken by the HCoJ independently and they could not have interfered.
Ivanishvili said that he shares the stance of this latter group of lawmakers.
"I don't like this decision either… but it's up to the judicial authorities to decide… and not through interference from outside," Ivanishvili said in the interview with GDS TV.
When speaking about this issue he also stressed that it would be wrong to lay the blame on individual judges, including Murusidze, on miscarriages of justice, including the one in the Girgvliani case.
"Girgvliani was the victim of the system," Ivanishvili said, adding: "Many of the judges themselves were the victims of that system."
He said that when the GD came into power it refused to repeat what UNM did when the latter came into government and to "clean up" court system and filling it with loyal judges. Instead, he said, the GD gave judges absolute freedom. He said it was the only right decision.
"If someone thinks that we should have used the same methods applied by Saakashvili… are very wrong," Ivanishvili said.
When speaking on this issue he criticized President Margvelashvili for weighing in the debate over Murusidze's reappointment.
Few hours after the HCoJ voted in favor of Murusidze on December 25, President Margvelashvili said that "struggle" for fair judiciary is far from over and vowed to bring that "fight to the end."
In the lead up to the December 25 vote in the HCoJ, President Margvelashvili was not commenting publicly on the issue, but his decision to hold just few days before the vote an award ceremony during which he posthumously honored Irina Enukidze, mother of Sandro Girgvliani who died in 2007, with Queen Tamar Order, was viewed as a clear demonstration of the President's position. The order was handed over to Enukidze's husband Guram Girgvliani, who said in an acceptance speech that if Murusidze was reappointed as judge it would mean that Irina Enukidze's struggle for justice was "worth nothing."

Because of ceremony's timing, Ivanishvili described it as a "stage show"; but then he immediately added that Irina Enukidze "deserves all the honors from our society" because of her struggle for justice.
"No other branch of government should intervene into judiciary… But the President, which also part of the government, has clearly started attempts to gain influence over the judiciary," Ivanishvili said.