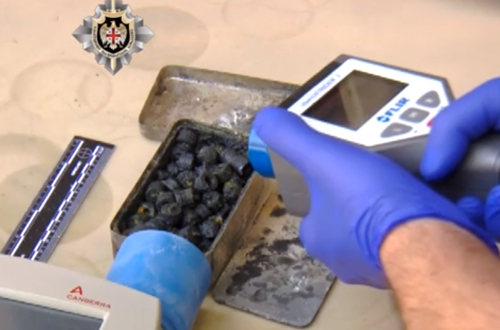 Screengrab from a video footage distributed on April 28, 2016 by the Georgian State Security Service showing investigators checking the radioactivity level of what the security service said was seized 1.6kg of uranium.
Five citizens of Georgia have been arrested while trying to sell 1.665 kg of radioactive Uranium-238 and Uranium-235 for USD 3 million, the Georgian State Security Service said on Thursday.
It said that the arrest was made in the Black Sea coast town of Kobuleti in Adjara Autonomous Republic.
The security service did not say to whom the suspects were trying to sell the radioactive material.
Court in Tbilisi ordered pretrial detention of the five arrested men on April 27.
The announcement comes ten days after the State Security Service reported on April 18 about arresting three Georgian and three Armenian citizens, who, it claimed, were trying to sell radioactive Uranium-238 "for 200 million USD."
In January the Georgian State Security Service reported about the arrest of three men accused of trying to sell radioactive substance Cesium-137.