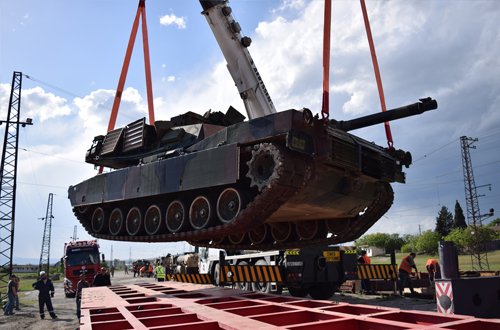 An Abrams M1A2 Main Battle Tank prepares to be offloaded, May 5, at the railhead near Vaziani training area, outside Georgian capital Tbilisi, in preparation for Exercise Noble Partner, May 5, 2016. Photo via
DVIDS
The Russian Ministry of Foreign Affairs criticized on May 6 upcoming U.S-Georgian joint military exercises outside Tbilisi as "a provocative step."
Annual military exercises, Noble Partner, will be held on May 11-26 at the Vaziani training area, east of Tbilisi, with the participation of 500 Georgian, 650 U.S. and 150 United Kingdom service members. U.S. army's M1A2 Abrams main battle tanks were ferried from Bulgaria across the Black Sea to Georgia for the first time for the purpose of the drills.
"We have paid attention to large-scale preparations for upcoming U.S.-Georgian military exercises Noble Partner 2016 on May 11-26 with the main declared goal to prepare the Georgian army for participation in the NATO Response Force (NRF) and 'strengthening of Georgia's territorial self-defense capability'. Transporting military hardware of the Alliance member states to Georgia is also exercised as part of the drills. While [U.S. army's Bradley] infantry fighting vehicles were shipped [to Georgia] last year [for Noble Partner 2015], this time Abrams tanks were also ferried from Bulgaria," the Russian Foreign Ministry said in a statement posted on its website.
"We consider such a consistent 'exploration' of the Georgian territory by NATO troops as a provocative step, aimed at shaking deliberately military-political situation in the Transcaucasus region," said the Russian Foreign Ministry, which also accused the U.S. and "its allies" of encouraging "revanchist aspirations of Tbilisi."
"Recent public remarks by chairman of the Georgian Parliament [Davit] Usupashvili were yet another confirmation of that. As [he] said 'mission of the Georgian armed forces remains not accomplished as long as part of country's territory is occupied'. He named not only 'the heroism of the Georgian soldiers and officers', but also assistance from NATO partners as key to [mission] accomplishment," it said. "We would like to understand what these remarks mean. By the way, these remarks were made on May 4 – the very same day, when American tanks were offloaded in port of Poti."
The Russian Foreign Ministry was apparently referring to remarks made by Usupashvili while addressing Georgian soldiers at the Vaziani military base during the ceremony marking 25th anniversary of the Georgian Armed Forces on May 4.
"It is very difficult to fully celebrate the 25th anniversary of the Armed Forces, when parts of our country remain occupied and our state is not yet unified," the Georgian Parliament Speaker said. "But this mission, I think, makes each of us even stronger and gives us more courage and encouragement, because we – politicians, soldiers, citizens, still owe our homeland, and that's the most honorable duty – defending our homeland, unifying our homeland, and security peace."