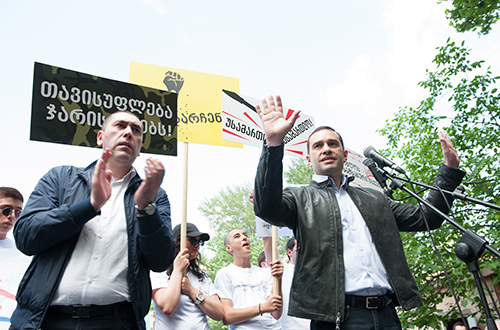 Leader of the Free Democrats Party and ex-defense minister Irakli Alasania (left) addresses protest rally outside the prosecutor's office in Tbilisi, May 21, 2016; MP from Free Democrats Zurab Abashidze stands next to him. Photo: Eana Korbezashvili/Civil.ge
Demonstrators gathered outside the Prosecutor's Office on Saturday at a rally organized by the opposition Free Democrats party and denounced the guilty verdict against five former defense ministry and general staff officials.
Addressing protesters at the rally, leader of the FD party, Irakli Alasania, said that the five "innocent" men were put behind bars as a result of "political pressure" exerted by ex-PM Bidzina Ivanishvili on prosecutor's office and the judiciary.
"Let's pledge to each other that we will not let Ivanishvili to prevail with this injustice… Power of the people can rectify this injustice," said Alasania, who called the prosecutor's office "embodiment of injustice."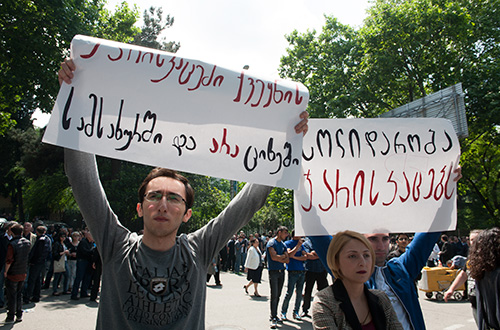 Protesters outside the prosecutor's office in Tbilisi hold banners reading: "Soldiers should be in the service of the country, not in jail" and "Solidarity with soldiers", May 21, 2016. Photo: Eana Korbezashvili/Civil.ge
Tbilisi City Court found five former MoD and general staff officials guilty of misspending and sentenced them to 7-year prison term on May 16; defense lawyers are going to appeal the verdict.

One former and four serving officials from MoD and general staff of the armed forces were arrested on October 28, 2014 and charged with misspending GEL 4.1 million in an alleged sham tender in 2013 on laying fiber-optic cable.
This so called "cable case" led to first major split within the Georgian Dream (GD) ruling coalition and the firing of then Defense Minister Irakli Alasania, followed by resignations of his two allies from cabinet posts in November, 2014. It resulted in Alasania's Free Democrats leaving the GD coalition. Alasania has been denouncing charges against the MoD officials as "politically motivated", which also aimed at targeting him as the defense minister.
Along with activists and supporters of FD party, representatives from other parliamentary and non-parliamentary opposition parties were also present, among them from the United National Movement (UNM), New Rights, and the State for the People, a newly launched party led by retired opera singer Paata Burchuladze. Representatives of some civil society groups were also present at the rally.
"This is clearly a politically motivated case… and they [convicted former MoD officials] are personal prisoners of [ex-PM Bidzina] Ivanishvili," said UNM MP Sergo Ratiani, who joined the rally outside the prosecutor's office.
MP Pridon Sakvarelidze from the Republican Party, which remains in a governing coalition with the ruling GDDG party, was also present at the protest rally; he said that the Republicans have seen "signs of political motives" behind the cable case from the very beginning.
After being arrested in late October 2014, all five men had spent almost eight months in pre-trial detention before being released in June, 2015. In August, 2015 Defense Minister Tina Khidasheli, who is from the Republican Party, reinstated four men to their jobs – two of them served in MoD's procurements unit and two others in general staff's communications and IT department. The fifth one – former head of procurements unit – was no longer MoD employee at the time of the arrest in October, 2014.
FD's leader Irakli Alasania said on May 21, that his party will now start collecting signatures of citizens on a petition calling for the release of the five men.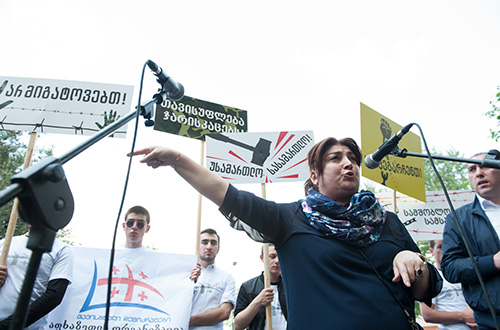 Wife of one of the convicted former MoD officials addresses protest rally outside the prosecutor's office in Tbilisi, May 21, 2016. Photo: Eana Korbezashvili/Civil.ge
"We will then submit this petition to the Georgian President. At this rally outside the prosecutor's office we protested against injustice, but we will search of justice in the legitimate institution – the presidency," Alasania said.
National Forum, party which was a member of the ruling Georgian Dream coalition up until recently, called on President Giorgi Margvelashvili to use his pardon power to achieve release of the former MoD officials.
President Margvelashvili has suggested earlier that he will wait for the appellate process before taking any decision about possible pardon.
"Lawyers are going to appeal the case and I will follow it closely. I don't want to jump the gun," the President told journalists on May 18.
Prosecutor's office denies allegations of politically motivated prosecution as "groundless". Chief prosecutor, Irakli Shotadze, who briefed Tbilisi-based foreign diplomats about the details of the case on May 19, says that opponents try to intentionally mislead the public and discredit the process of administration of justice by politicizing the case.