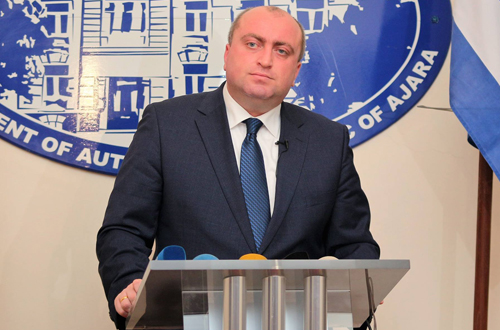 Archil Khabadze announces his resignation as chairman of Adjara Autonomous Republic's government, July 6, 2016. Photo: Adjara govt press office
Head of local government in Adjara Autonomous Republic, Archil Khabadze, has filed for resignation, three months before the elections in this region on Georgia's Black Sea coast.
Khabadze, who before becoming the chairman of the local government of Adjara in October 2012 was director of then PM Bidzina Ivanishvili-affiliated Cartu Bank's Batumi branch office, announced about resignation on July 6, citing the need to "renew and further strengthen the ruling team in Adjara."
The Georgian media has been reporting about the ruling GDDG party's intention to replace head of Adjara Autonomous Republic this week.
Election of local legislative body in Adjara, Supreme Council, will be held simultaneously with the parliamentary elections on October 8.
Khabadze will remain an acting head of the local government before the Supreme Council confirms a new chairman of the Autonomous Republic's government.
According to the constitution, President Giorgi Margvelashvili has to nominate new head of the local government in Adjara after consultations with political groups in the Supreme Council; the President can only name a candidate if the nomination has the support of the central government.
According to media reports, which have not yet been confirmed by officials, Georgia's ambassador to Kazakhstan, Zurab Pataradze, is being considered as a candidate to replace Khabadze.
A candidate, nominated by the President, will then require confirmation by the 21-member legislative body in Adjara, the Supreme Council, where the Georgian Dream ruling coalition lost majority last year.
Khabadze's announcement about the resignation came few days after ex-head of the Adjara government, Levan Varshalomidze, returned to Batumi earlier this week and launched a campaign for upcoming elections.
Varshalomidze served as head of Adjara Autonomous Republic's local government in 2004-2012 under then President Mikheil Saakashvili's administration.
Saakashvili, who is now governor of Ukraine's Odessa region, said in early May that Varshalomidze, who spent last couple of years in Ukraine, should return to Adjara and become head of the region after the UNM opposition party, which Saakashvili chaired before losing Georgian citizenship, wins in the October elections.
Varshalomidze, who has yet to be formally named by the UNM party as its candidate to lead its party list in the election for Adjara Supreme Council, has been accompanied at some of his campaign events this week in Batumi by Georgia's ex-first lady Sandra Roelofs.
He said that Adjara is in a "pause mode" since the Georgian Dream came into power and the region will be put back into development mode after he returns back into local government following the October 8 elections.
When announcing his resignation on July 6, Archil Khabadze said that after the Georgian Dream came into power, Adjara has experienced "fundamental progress in all the directions" with "USD 838 million invested in the region's economy".
Khabadze also said that after stepping down, he will "actively engage in pre-election process together with the Georgian Dream's team."