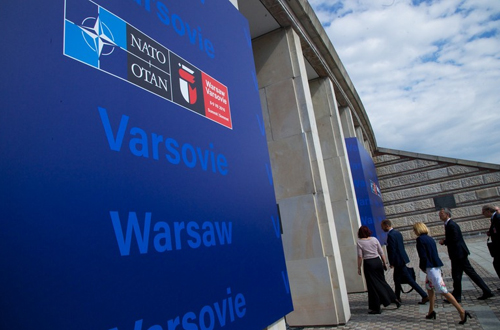 Warsaw NATO Summit vanue at the PGE National Stadium in the Polish capital. Photo: NATO
In a joint declaration to NATO Warsaw summit participants, six political groups in the Georgian parliament, including opposition and most of the ruling coalition parties, reiterated their Euro-Atlantic aspirations.
The declaration has also been signed by President Giorgi Margvelashvili; PM Giorgi Kvirikashvili, and Parliament Speaker Davit Usupashvili.
"The undersigned parliamentary political parties of Georgia [had] in the past, and continue to have, substantial domestic political disagreements. Yet we stand united on one principle: that Georgia is a sovereign, independent state, and the Georgian people are committed to building a European democracy that cherishes freedom, economic opportunity, and security, and aspires to full membership in all Euro-Atlantic institutions," reads the declaration distributed by on July 8 amid opening of the NATO summit in Warsaw.
The declaration has been signed by the ruling Georgian Dream-Democratic Georgia (GDDG) party, its coalition partner in government the Republican Party, and its coalition partner in the Parliament the Conservative Party, as well as by the National Forum, which quit the ruling coalition GD in April, and opposition United National Movement (UNM) and Free Democrats (FD) parties. The Industrialists Party, which is the ruling GDDG's partner party in the Parliament, whose leaders have voiced anti-NATO stance for multiple times, has not joined the declaration.
The document, called "All-Party Declaration on Georgia's Euro-Atlantic Integration" says that Georgia "seeks to play a vital part in a Euro-Atlantic community of nations contributing to the collective security, democracy and prosperity of that community."
"We recognize the unique challenges Georgia faces in its region," reads the declaration. "Our country is partially occupied by Russia, which has recognized entities it controls [Abkhazia and South Ossetia] as independent states. Russia's aggression throughout the last 25 years and its invasion of Georgia in 2008 produced hundreds of thousands of internally displaced citizens. We are in a region plagued by territorial disputes, and geographically close to on-going armed conflicts. But our location is also significant as a logistics and energy corridor connecting East and West."
"We cannot control the actions of our neighbors – and should therefore not be held hostage to their actions. As Georgian citizens, we are committed to the principles of good neighborly relations, free and open trade, dialogue and peaceful resolution of disputes. We will never be the first to use force in our neighborhood. Yet we are equally committed to safeguarding Georgia's sovereignty and territorial integrity."
"We seek the full support, encouragement, and assistance of our partners in the transatlantic community for the full integration of Georgia in the European Union, NATO, and all other Euro-Atlantic institutions," reads the declaration.
President Giorgi Margvelashvili, who in Warsaw for the NATO summit, told the Georgian journalists in the Polish capital on July 8, that the declaration "is an important document", showing unity of the political forces over Georgia's NATO aspirations.
"I want to thank the [undersigned] parties. The political forces are able to get united and speak with one voice when it comes to Georgia's foreign policy priorities and Georgia's interests," President Margvelashvili said.
Late last month about 70 Georgian civil society organizations, think-tanks and rights groups appealed to NATO with a joint open letter, calling for "a clear roadmap towards NATO membership" for Georgia.
"We believe that Georgia's membership in NATO will positively affect the process of Georgian statecraft, as well as contribute to security and stability in the wider region," reads the open letter, which was released on June 23.
"We truly believe that what Georgia needs now is a clear roadmap towards NATO membership to be agreed at the NATO Warsaw summit. This would serve Euro-Atlantic security interests and further advance the principles on which the Alliance was founded. We also hope that decisions taken in Warsaw will support concrete measures aimed at deterring Russian aggression and reinforcing Georgia's security," it says.
Although NATO foreign ministers said in December, 2015 that Georgia has "all the practical tools to prepare for eventual membership", they also reaffirmed that before joining the Alliance the country should go through a Membership Action Plan (MAP) phase, which Georgia has been denied since 2008. Granting MAP to Georgia at the Warsaw summit is not expected.