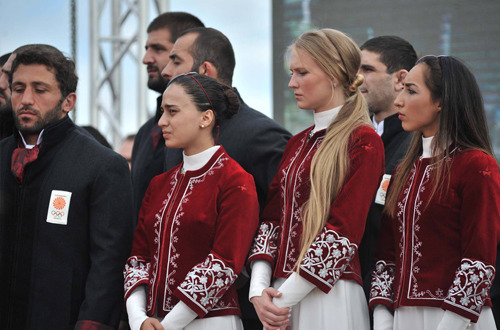 Georgian athletes seen at the farewell ceremony in Tbilisi on July 23, 2016 in uniforms created by
Samoseli Pirveli
, which describes itself as producer of Georgian traditional clothing, co-founded by businessman
Levan Vasadze
. The uniforms became the major internet talking point in Georgia, getting overwhelmingly negative reactions. Photo: Georgian National Olympic Committee
Georgia is sending 39 athletes to Rio de Janeiro, the largest ever Olympic team for the country, which first fielded athletes as an independent state to the Summer Olympic Games in 1996.
30 men and 9 women will compete in 13 sports, including judo (8 athletes); free-style wrestling (6 athletes); Greco-Roman wrestling (5 athletes); athletics (5 athletes); weightlifting (3 athletes); archery (3 athletes); swimming (2 athletes); and there is one athlete competing in each of the following sports: trampoline gymnastics; rhythmic gymnastics; fencing; tennis, and canoe sprint.
The team also includes two air pistol shooters – Nino Salukvadze, 47, for whom it will be the eighth Olympic Games, and her 18-year-old son Tsotne Machavariani.
While there have been cases of parents and their children participating at the same Olympic Games, this is believed to be the first time when a mother and son will be competing in the same Olympics.
Georgia Olympic Team farewell ceremony was held on July 23 at the Tbilisi Olympic Park with the participation of President Giorgi Margvelashvili and PM Giorgi Kvirikashvili.
President of the Georgian National Olympic Committee, Leri Khabelov, said that the goal is to "win as many medals as possible."
"Pre-Olympic achievements of our athletes and their potential give us reason to be optimistic," he said.
Georgia, which had 35 athletes at the 2012 London Olympics, ended up with total of 7 medals four years ago – one gold, three silver and three bronze medals, all of them in judo and wrestling tournaments.

With seven medals in London, Georgia surpassed its medal tally at four previous Summer Olympic Games, but in terms of gold medals fell short of those gained at Beijing 2008 and Athens 2004.
Georgia first sent athletes as an independent state to the Summer Olympic Games in 1996 in Atlanta, winning two bronze medals – one in freestyle wrestling and another in judo.
Four years later in Sydney, Georgian athletes won six bronze medals (heavyweight boxing; Greco-Roman wrestling; weightlifting; judo and two bronze medals in freestyle wrestling).
Georgia's first Olympic gold came in 2004 in Athens where the Georgian athletes won total of four medals – two gold (judo and weightlifting) and two silver medals (Greco-Roman wrestling and judo).
At Beijing 2008 Georgia had three gold medals (judo; Greco-Roman wrestling and freestyle wrestling) and three bronze medals (two in freestyle wrestling and one in women's 10m air pistol).