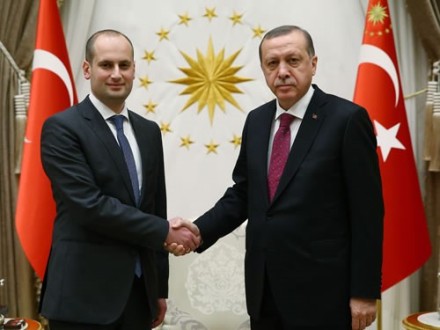 Georgian Foreign Minister and Turkish President. January 10, 2017. Photo: Office of the President of Turkey
Georgian Foreign Minister Mikheil Janelidze who was paying an official visit to Turkey on January 10 met with his Turkish counterpart, Mevlüt Çavuşoğlu, President Recep Tayyip Erdoğan and Prime Minister Binali Yildirim and addressed the annual conference of Turkish diplomats.
During the meeting with President Erdoğan, Janelidze offered his condolences over the recent terrorist attacks in Turkey and thanked him for Turkey's active support in Georgia's NATO integration, according to the Georgian Foreign Ministry.
"The sides noted with satisfaction the close friendly and strategic relations between the two countries. Particular emphasis was drawn on regional transport and energy projects and the importance of active cooperation in the implementation process," the Georgian Foreign Ministry said.
Earlier on January 10, Mikheil Janelidze met with Prime Minister Binali Yildirim, where the two sides talked on "the specifics of expanding" the Free Trade Agreement between Georgia and Turkey and the possible end dates of the first stage of the Baku-Tbilisi-Kars railway project. In February 2016, representatives of Turkey, Georgia and Azerbaijan set 2017 as the new date for putting the railway in operation.
According to the Georgian MFA, Janelidze and Yildirim noted that the trilateral Azerbaijan-Georgia-Turkey format "exceeds regional cooperation and gains a broader, international importance."
The sides also agreed to continue cooperation within the high-level council, which is chaired by the two countries' prime ministers and gathers once in a year to discuss a broad range of bilateral issues.
During bilateral talks with Mevlüt Çavuşoğlu, Janelidze and his Turkish counterpart underlined "the successful dynamics" in trade and economic relations and emphasized on the implementation of joint transit and energy projects, according to the Georgian Foreign Ministry.
"The sides spoke on the transit potential of Azerbaijan, Georgia and Turkey and in this context, noted the necessity of the timely start of the Baku-Tbilisi-Kars railway project and the importance of implementation of Southern Energy Corridor projects," Georgian MFA statement read.
"We have formed a strategic partnership [with Turkey] ... Turkey is one of Georgia's top trading partners. We are jointly developing strategic projects of regional importance, such as the railway, energy projects, electric power transit and other [projects], which are important for our neighbors and the region, as well as for Europe," Janelidze told the press after the meeting.
The Georgian Foreign Minister also addressed the annual conference of Turkish diplomats, where he spoke on Turkish-Georgian cooperation, joint economic and energy projects, Georgia's foreign policy priorities and the situation in Georgia's occupied regions.
Speaking before the diplomats, Janelidze noted that Azerbaijan, Georgia and Turkey form the most important pillar in the East-West transit-transport corridor linking the economies of Europe and Asia, Georgian MFA said.
Foreign Ministers of Malta, Tunisia and Finland were also present at the ambassadorial, according to the Turkish Foreign Ministry.