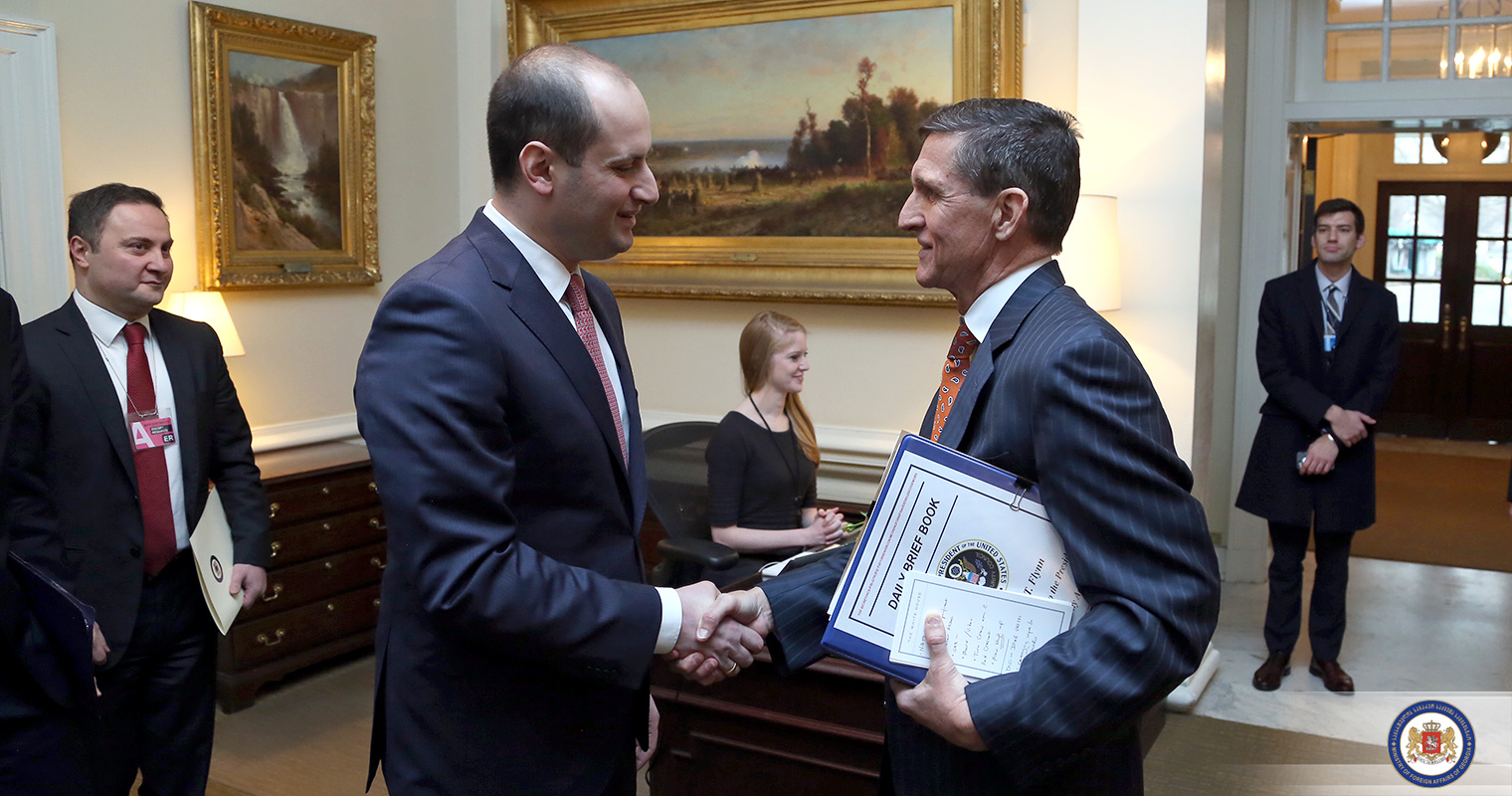 Georgian Foreign Minister Mikheil Janelidze and National Security Advisor Michael Flynn, February 9, 2017. Photo: Georgian MFA
Georgia's chief diplomat Mikheil Janelidze is on a working visit to Washington D.C., in a bid to build contacts with the new U.S. administration.

As part of the visit, Mikheil Janelidze met with National Security Advisor Michael Flynn and is due to meet the new Secretary of State Rex Tillerson.

The Georgian MFA reported following the meeting with Michael Flynn that Janelidze thanked the National Security Advisor "for his personal, as well as for the new administration's interest and support for Georgia paying special attention to the strong partnership" between the two countries.

The sides also focused on the security environment in the region and on the situation in Georgia's occupied territories, according to the statement.

"The White House reaffirmed its strong support for Georgia's sovereignty and territorial integrity, as well as for its European and Euro-Atlantic integration," it also said.

According to the Georgian MFA, Michael Flynn "made special mention of Georgia's important role in maintaining Euro-Atlantic security emphasizing that when it comes to dealing with international security challenges, Georgia is a key partner of the US not only regionally but also globally."

"According to the National Security Advisor, Georgia sets an example of democratic and economic development in the region and has a great potential for becoming a regional economic hub," the statement added.

Janelidze was also received by U.S. Senators: Mitch McConnell (Rep.), Senate Majority Leader, Bob Corker (Rep.), Chairman of the Foreign Relations Committee and Thad Cochran (Rep.), Chairman of the Appropriations Committee.
The sides talked on bilateral relations between the two countries and the prospects for future cooperation.