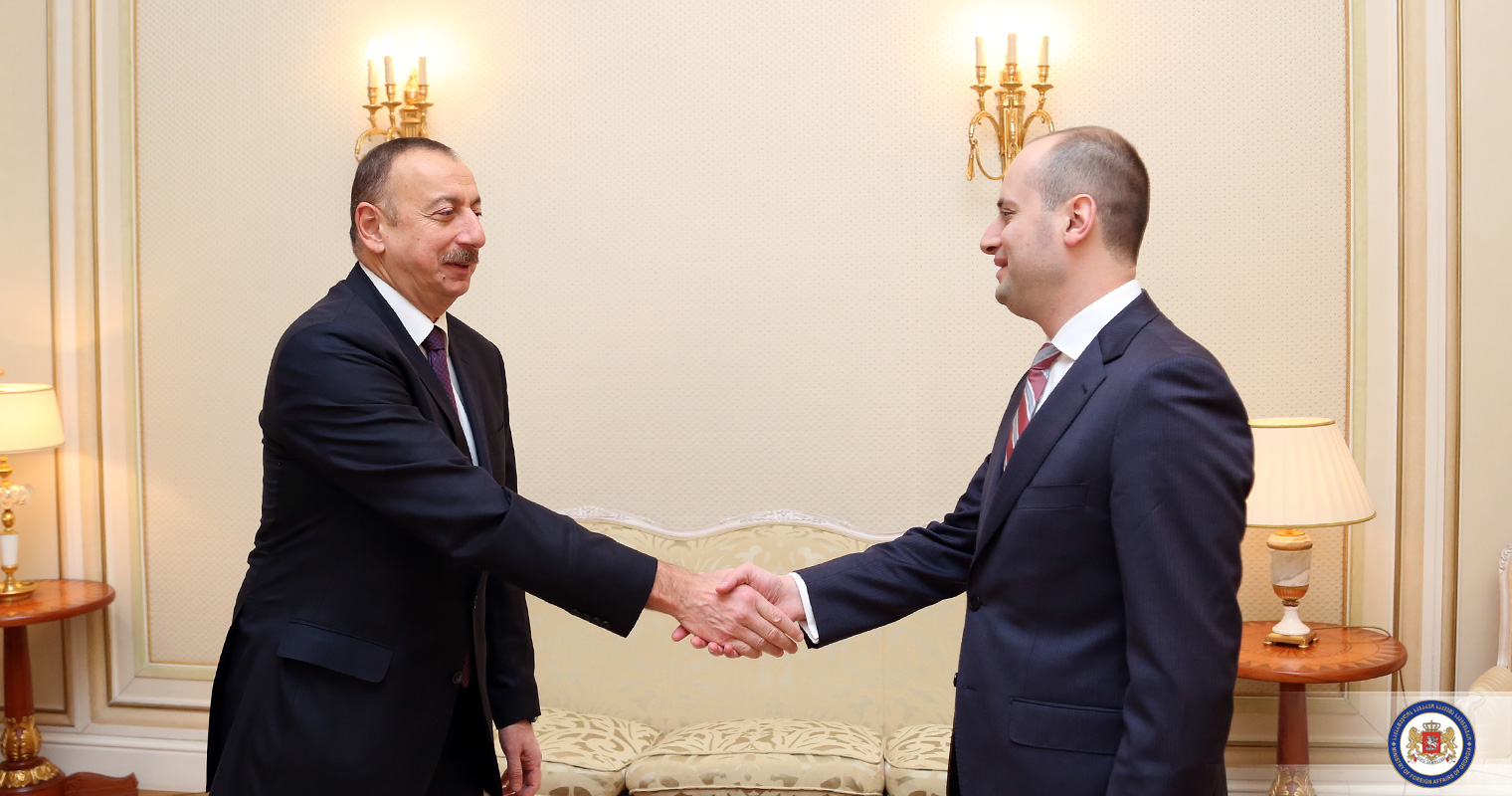 Azerbaijani President Ilham Aliyev and Georgian Foreign Minister Mikheil Janelidze, February 13, 2017. Photo: Georgian MFA
Georgia's Foreign Minister Mikheil Janelidze has concluded his two-day official visit to Baku, where he met the President of Azerbaijan Ilham Aliyev and Foreign Minister Elmar Mammadyarov to discuss bilateral relations between the two neighboring countries.

At the meeting on February 13, Janelidze and Aliyev underlined that "the good-neighborly and strategic relations" between Georgia and Azerbaijan creates "solid basis" for the further development of bilateral and regional cooperation, the Georgian MFA reported.
According to the Georgian MFA, "special note was taken" of the importance of transport and energy projects between the countries. The sides agreed to continue close cooperation for the implementation of the Southern Gas Corridor and Baku-Tbilisi-Kars Railway projects, the statement also said.

Janelidze and Aliyev spoke on the two country's cooperation within the European Union's Eastern Partnership Initiative, according to the Georgian MFA. "Mikheil Janelidze welcomed the launch of the EU-Azerbaijan strategic document," it said.

"President Ilham Aliyev said that Azerbaijani-Georgian relations are developing very successfully and dynamically," the Azerbaijani President's administration reported in its press release of the meeting.

"The head of state noted the importance of expanding cooperation between the two countries in all areas, including political, economic, transportation, energy and humanitarian ones," the statement said.

President Aliyev stressed the importance of "increasing efforts" to strengthen "the good results" of bilateral cooperation and "bring the two countries closer to each other," according to his office.

On February 13, Janelidze held a meeting with his Azerbaijani counterpart Elmar Mammadyarov, where the sides spoke about "the traditionally successful cooperation" between Georgia and Azerbaijan "based on centuries-old friendship and good-neighborly relations," according to the Georgian MFA.
The Georgian MFA reported that the sides talked on a range of issues, including bilateral cooperation in commercial, economic and energy sectors.

"Special attention was paid to the importance of using the full transport potential of the south-west transport route and of developing transit possibilities of the Europe-Asia transport corridor," the statement added.

According to the Azerbaijani MFA, Minister Mammadyarov said that "the mutually beneficial" cooperation between Azerbaijan and Georgia, "as friendly and neighborly countries, sets an example for the entire region."

Foreign Ministers spoke on the bilateral cooperation in economy, trade, tourism, energy and transport sectors and stressed the importance of expanding the ties "of regional importance." Here as well, the sides noted "the indispensability" of Baku-Tbilisi-Kars Railway and Southern Gas Corridor projects.

"The sides reiterated mutual support for the territorial integrity, sovereignty and internationally recognized borders of Azerbaijan and Georgia," the statement also said.

Within the visit, the Georgian Foreign Minister also held meetings with Prime Minister Artur Rasizade and Milli Mejlis Speaker Oktay Asadov.