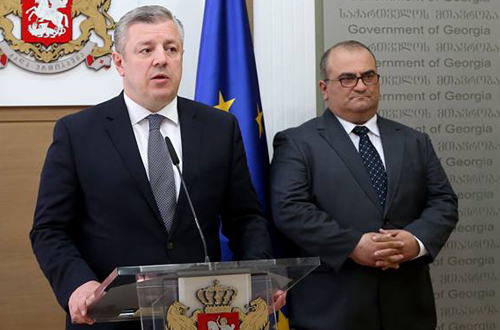 PM Kvirikashvili (left) and Education Minister Aleksandre Jejelava (right), June 3, 2016. Photo: Office of the Prime Minister
Aleksandre Jejelava, Georgia's Minister of Education and Science has been appointed as the third vice premier in Giorgi Kvirikashvili's cabinet, the Georgian Government's press office announced on February 21.

Jejelava, who was appointed to the ministerial post in June 2016, will coordinate the Cabinet's public relations and youth policy fields, PM Kvirikashvili said at the Government's February 21 session.

"Education is a number one priority for the Government this year, so it is very important that each of the citizens is informed on the state policy," Kvirikashvili said.

Kvirikashvili added that Jejelava and the Government administration's public relations office will cooperate for implementing "a proactive" public relations policy.

Aleksandre Jejelava will serve as the deputy premier along with Finance Minister Dimitri Kumsishvili and Energy Minister Kakha Kaladze.