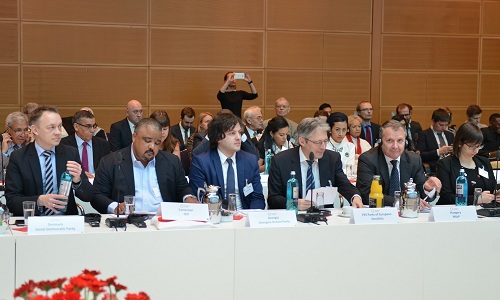 Irakli Kobakhidze (third from the left) at the Convention of the Progressive Alliance in Berlin, Germany. March 12, 2017. Photo: Parliament of Georgia
Georgian Parliamentary Chairman Irakli Kobakhidze was elected into the 35-member Board of the Progressive Alliance, a global network of social-democratic parties.

The decision was made on March 12 at the Progressive Alliance Convention in Berlin, Germany.

"It is a great honor to be elected as the board member of the organization," Kobakhidze said and added that the appointment will enhance the international contacts of the ruling Georgian Dream-Democratic Georgia (GDDG) and facilitate "better representation of the country."

Kobakhidze will serve as the Board member for a period of two years.

The Progressive Alliance was established in 2013 as an international network of progressive, social democratic, socialist and labor parties and organizations, unifying more than 130 organizations worldwide today. The Georgian Dream-Democratic Georgia is one of the founding members of the Alliance.

The Alliance partners with various regional party networks, including the Group of Socialists and Democrats in the European Parliament and the Party of European Socialists. The Georgian Dream-Democratic Georgia is an observer member of the Party of European Socialists.