Commenting the March 22 statement of the Armenian National Security Service on the alleged transit of man-portable anti-aircract missile launcher Igla [NATO designation SA-18 Grouse] and its missile from Georgia to Armenia, Interior Minister Giorgi Mghebrishvili said that "it cannot be unequivocally confirmed" that it was smuggled through Georgia.

"[The Armenian side] may be saying that, but we are studying the details [now] and will definitely inform the society about that," Mghebrishvili told the journalists on March 23 in Brussels, where he was visiting from March 20.

The Armenian Security Service issued a statement on March 22, saying that it "received preliminary information on the attempts of Armenian citizens to smuggle the man-portable missile system Igla from Georgia to Armenia."

The agency also said that the ammunition was seized and two persons were arrested in connection with this case.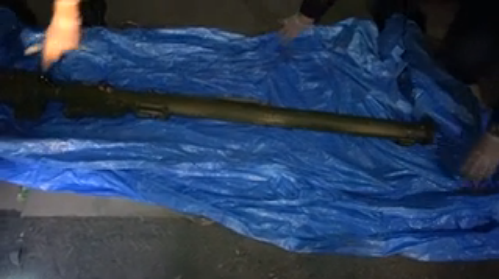 Screengrab from a video footage posted by the Armenian National Security Service.
A day later, the Armenian Security Service released another statement, noting that "joint measures are being taken" with Georgian law enforcement agencies "for confirming the accuracy of preliminary information on the alleged transit of the seized ammunition through the Armenian-Georgian state border."

False alarm?
A separate report on the alleged arms transit to Armenia appeared on March 22, when UNM's Nugzar Tsiklauri said at his special news briefing that the party activists documented the movement of Russia-licensed trucks that allegedly carried concealed military hardware near Bolnisi, a small town south of Tbilisi, close to the Armenian-Georgian border.

"At this very moment, several trucks with Russian license plates, carrying concealed freight, are moving in Bolnisi district. Based on visual observation, with great probability, it is military hardware … the trucks are, most probably, moving towards the border with Armenia," Tsiklauri stated.

The photo and video footage, presented by Tsiklauri, shows up to five trucks carrying two unidentified vehicles each.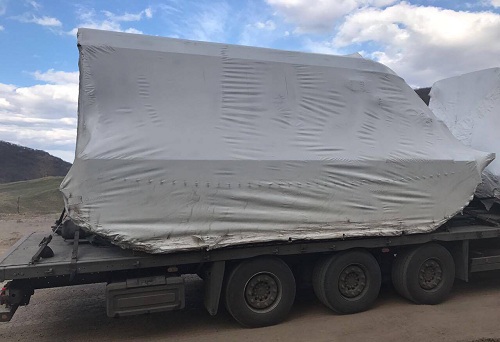 UNM said the photos captured in Bolnisi district, Georgia show military vehicles in transit towards Armenia.
GDDG MPs say the cameras have captured GAZ 34 039 Irbis all purpose rescue vehicles, purchased by Armenia.
Defense Ministry denied the reports in a brief statement on March 23, saying that the cargo was "nonmilitary, civilian equipment."

"The Defense Ministry issues permits on the transit of military equipment, but in this particular case, no such permit has been issued. For [several] years already, neither Armenia, nor Russia has applied to the Georgian Defense Ministry concerning the transit of military equipment and respectively, no permit has been issued [in this occasion either]," MoD stated.

Parliamentary Defense and Security Committee Chair Irakli Sesiashvili convened a news briefing on March 23, accusing the United National Movement of spreading "false" information and calling on "all political forces to refrain from making such statements."

"Regretfully, we are used to hearing ungrounded statements from the United National Movement and other political forces, which go against the country's interests, as they understand full well that this issue is very sensitive and its audience is not only local, but also our neighbors, with whom we have very good relations," Sesiashvili stated.

"Any responsible politician would have first checked the accuracy of this information," Sesiashvili said and added that the transported cargo contained rescue vehicles GAZ 34 039, which, in the words of Sesiashvili, is not military equipment and hence, does not require a transit permit from the Defense Ministry.

"It is unfortunate that the National Movement continues its policy of lies, thus misleading our population, harming the state interests and creating an absolutely unfounded hysteria, which is solely aimed at catering narrow political interests," Sesiashvili concluded.