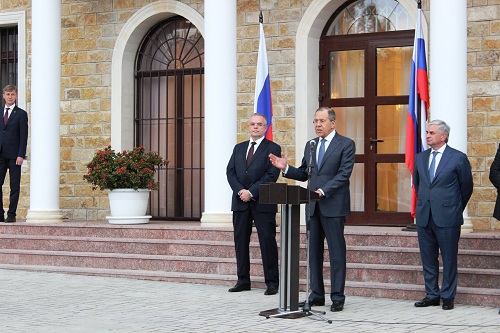 Foreign Minister Sergey Lavrov at the opening ceremony in Sokhumi, April 18, 2017. Photo: Gazeta Nuzhnaya
Russian Foreign Minister Sergey Lavrov, on a visit to Abkhazia region, attended the opening ceremony of the new Russian "embassy" building in Sokhumi. Lavrov thanked those who participated in the building's construction, adding that its large size "reflects Russia's attitude towards the brotherly, allied Abkhaz people."

Sokhumi leader Raul Khajimba also spoke at the ceremony, saying that building relations with Russia was "not just the main and key direction of Abkhazia's foreign policy, but also the vital necessity for our people."

Khajimba also expressed readiness for further steps to "intensify cooperation in the spheres of defense and security, coordinated foreign policy, socio-economic and humanitarian development," and welcomed Lavrov's presence at the opening ceremony.

Russia recognized the Georgian region's independence on August 26, 2008, after the Russo-Georgian War that occurred earlier that month. Russian "embassy" in Abkhazia opened in April 2009.

Tbilisi denounced Lavrov's visit to Abkhazia in a statement on April 18, saying that "the "visit" of the Russian Foreign Minister to the occupied Abkhazia region" is in violation of the Georgian state border and that "opening of new building of the illegal diplomatic representation of the Russian Federation" blatantly violates the principle of respect for sovereignty and territorial integrity.

The region remains unrecognized by the international community, with the exception of Russia, Venezuela, Nicaragua, and Nauru.