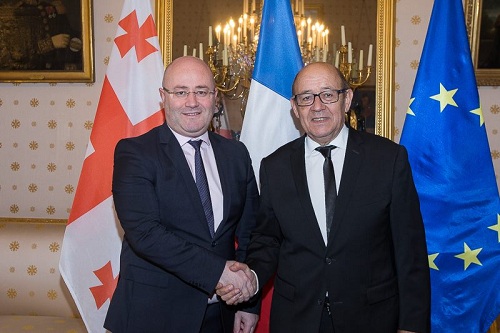 Levan Izoria and Jean-Yves Le Drian, April 18, 2017. Photo: Georgian Defense Ministry
Georgian Defense Minister Levan Izoria, who was visiting France on April 18-19, met his French counterpart, Jean-Yves Le Drian, on Tuesday.

"France is our strategic ally and will contribute to strengthening our defense capabilities," Levan Izoria said in his brief video message after the meeting.

He also reported that the two ministers focused on the French-Georgian defense cooperation.

According to Izoria, the ministers "outlined a specific cooperation plan," which, "in the first place, concerns the strengthening of the air defense system of Georgia."

"We are fulfilling the contract terms very well and we spoke on its next stage," Levan Izoria noted.

"Specifically, we plan to retrain our specialists so that they have the [necessary] skills for using the system," the Minister added without specifying additional details of the deal.

Izoria was most probably referring to one of the two defense deals signed by the Georgian Defense Ministry in 2015. The first deal was signed on June 15 with a producer of ground-based surveillance radars and air defense command and control systems ThalesRaytheonSystems, and another one on July 10 with European missile manufacturer MBDA.

Levan Izoria also named the military education as one of the fields of the French-Georgia defense cooperation. "We have very successful officers who obtained military education in France. Our [Sachkhere] Mountain Training School is also very successful. France and its Defense Minister have made a huge contribution to establishing and developing the School," Izoria underlined.

The Defense Minister also noted that the French contribution to strengthening the Black Sea security "will increase" with the French navy ship making a port call in Georgia in 2017.

The Georgian Defense Ministry said in its press release of the meeting that Izoria also expressed readiness to keep the platoon of Georgian soldiers in Central African Republic until September 2018.