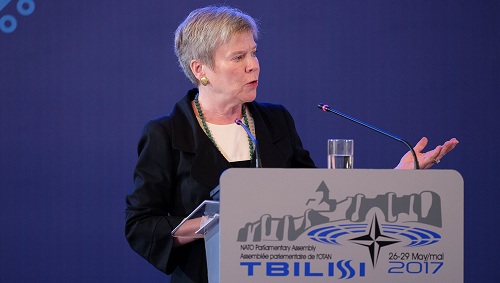 NATO Deputy Secretary General at NATO PA Session, May 29, 2017. Photo: nato.int
NATO Deputy Secretary General Rose Gottemoeller traveled to Georgia on May 29 to attend the NATO Parliamentary Assembly Session held in Tbilisi on May 26-29.

In the margins of the Session, Gottemoeller held meetings with President Giorgi Margvelashvili, Prime Minister Giorgi Kvirikashvili, Foreign Minister Mikheil Janelidze and Parliamentary Chairman Irakli Kobakhidze.

In her speech at the Assembly, Deputy Secretary General Gottemoeller said that Montenegro's coming membership of NATO was "a clear sign that the door to membership of NATO remains open to those who share our values, who meet the Alliance's high standards and who wish to contribute to the collective security of allies," adding that she was glad "to stress this point here in Tbilisi."

Gottemoeller called Georgia one of NATO's closest and most valued partners, and one of the largest troop contributions to NATO's Afghanistan mission. Georgia "helps us to form a deep understanding of the security situation here in the Black Sea region," she added.

The Deputy Secretary General also underlined that NATO supports Georgia through the Substantial NATO-Georgia Package, which has two objectives - to bolster Georgia's self-defense capabilities and to prepare it for NATO membership.

Speaking on the right of nations to choose their security arrangements, Gottemoeller stated that "whether a country wishes to join NATO or not is entirely up to them." "NATO takes no position on what security arrangements the country should make, it does firmly hold that countries must choose for themselves their security arrangements. That is their right and it will remain their right," she added.

At Gottemoeller's meeting with President Giorgi Margvelashvili, the President asked the Deputy Secretary General for NATO's expert assistance on the constitutional reform process, specifically with respect to the reform of the national security system. Georgia's NATO integration was also discussed at the meeting.

At the meeting with Prime Minister Giorgi Kvirikashvili, the sides highlighted Georgia's progress in implementing the Substantial NATO-Georgia Package, as well as the importance of the NATO Parliamentary Assembly's Declaration in support of Georgia's Euro-Atlantic integration. Kvirikashvili and Gottemoeller spoke on the state of affairs in Georgia's occupied territories as well.
Following the meeting with Mikheil Janelidze, the Foreign Minister and the NATO Deputy Secretary General signed the exchange of letters between the Government of Georgia and the Alliance on the atatus of NATO forces and NATO personnel in Georgia.
During her visit to Georgia, Gottemoeller also visited the NATO-Georgian Joint Training and Evaluation Center (JTEC), where she was hosted by Defense Minister Levan Izoria and Chief of General Staff Vladimer Chachibaia.