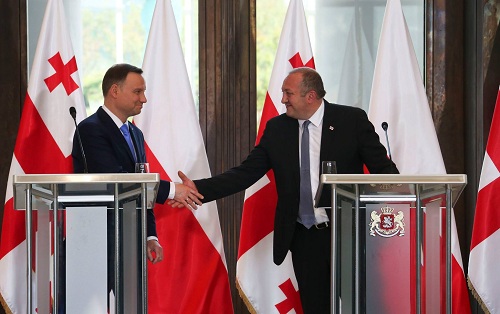 President Duda and President Margvelashvili, May 30, 2017. Photo: president.gov.ge
"I am an advocate of Georgia's full NATO membership, the doors of the Alliance should remain open," Polish President Andrzej Duda said in Tbilisi after talks with his Georgian counterpart Giorgi Margvelashvili held within his official three-day visit to Georgia.

Speaking at a joint press conference after the meeting, President Margvelashvili expressed his gratitude to President Duda for Poland's continued support of Georgia's European and Euro-Atlantic integration and emphasized that Poland, as "a very strong supporter of Georgia, firmly represents" Georgia's interests in NATO and the European Union.

"We constantly see Poland and Mr. President as strong supporters of Georgia's and Georgian people's aspiration toward freedom," he said. "Our countries actively cooperate in the areas of trade, tourism and education, but many opportunities are still ahead and I am sure that the visit of President Duda will give Georgia a new impetus to further enhance these bilateral relations," Margvelashvili added.

President Margvelashvili spoke on the upcoming NATO Summit as well, highlighting that Georgia, "thanks to its supporters and partner countries, stands firm on the path to NATO."

"Georgia began preparations for the upcoming NATO Summit long ago. In this regard, I have been in touch with the presidents of Lithuania, Latvian and Slovakia and today I have an opportunity to do the same with the President of Poland," he said.

"We will also try to consolidate this spirit and the messages that should be communicated at the upcoming Summit. We have serious supporters in NATO and the EU, who understand that if these challenges are not adequately addressed after the example of Georgia, they can become much more serious in the future," Margvelashvili added.

In his remarks, President Duda reiterated Poland's support to Georgia's European and Euro-Atlantic aspirations and added that Georgia as a loyal NATO partner demonstrated that it is worthy of the Alliance's membership because it acted like one of the Member States.

"The problem of Georgia's future membership in NATO is also politically complex for obvious reasons, but Georgia has a strategic position in terms of geopolitics, and I am convinced that sooner or later it will be in NATO and is to become a full member of the Alliance," President Duda said.

In his statement, President Duda also focused on economic relations between the two countries, stating that currently they are "not the best." "The potential of both countries is very large while the current trade exchange is very modest," he emphasized and suggested to establish the office of Poland's Trade and Investment Agency in Georgia, as well as to organize a joint business forum.

Declaration on Deepening Cooperation

As part of their meeting, the two presidents signed a document commemorating the 25th anniversary of establishing Polish-Georgian diplomatic relations, underlining Warsaw's full support to Georgia's European Union and NATO membership aspirations.

The sides stressed in the document that the Association Agreement between Georgia and the European Union is not "the ultimate goal of Georgian cooperation with the European Union." "While acknowledging Poland's special contribution to the Eastern Partnership, we remain committed to fully explore the potential of this initiative and ensure further progressive development of relations between the EU and Georgia," the document reads.

The declaration also highlighted the significance of the forthcoming Eastern Partnership Summit in Brussels. The document said that the summit should ensure "practical deliverables and a forward-looking vision for forging closer ties between the EU and Eastern European Partners, including Georgia, based on their individual merits and interests as well as a clear European offer."

During his official visit to Tbilisi on May 29-31, Polish President Andrzej Duda held meetings with Prime Minister Giorgi Kvirikashvili and Parliamentary Chairman Irakli Kobakhidze.