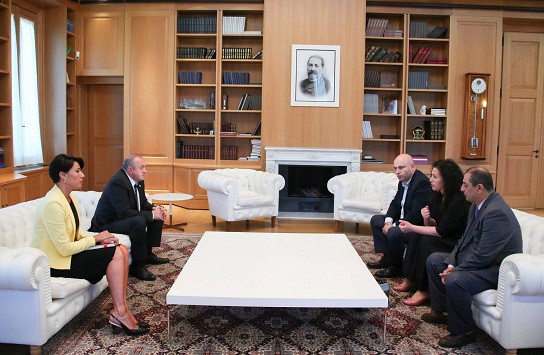 President Giorgi Margvelashvili meets Leyla Mustafayeva, wife of the jailed Azerbaijani journalist, June 27, 2017. Photo: press office of the President
President Giorgi Margvelashvili met with the wife of Afgan Mukhtarli, Leyla Mustafayeva, to get acquainted with recent developments over the case of the jailed investigative journalist.

Azerbaijani journalist Afgan Mukhtarli, who went missing on May 29 from Tbilisi and appeared in a detention facility in Baku a day later, is still kept in custody in Azerbaijan.

"The President of Georgia will be constantly monitoring Afgan Mukhtarli's case - he will be ready and open to receive any information," the President's press office said on June 27.

The meeting, which was held at the presidential palace upon Mustafayeva's initiative, was also attended by the journalist's Georgian lawyer, the President's Parliamentary Secretary and his Spokesperson.

"It is important that the investigation is carried out efficiently with full observance of our state interests, and that the family is assured that its interests are also protected," President's Parliamentary Secretary Anna Dolidze said.

Earlier on June 27, Chief Prosecutor Irakli Shotadze and Deputy Interior Minister Shalva Khutsishvili also commented on the issue.

"We request interrogation of Afgan Mukhtarli in the presence of our representative. We also request the files of his criminal case. As soon as Afgan Mukhtarli is interrogated and we receive the evidence based on which he is prosecuted in Azerbaijan, we will make a relevant legal decision," Irakli Shotadze said.

The Deputy Interior Minister spoke about the ongoing investigation in Georgia, saying that the video recordings from CCTV cameras would only be released after the results of interim investigation are made public.

"I cannot say anything else at this stage. We have filed a request to Azerbaijan's investigative agencies to interrogate Afgan Mukhtarli. Until we have a testimony and a whole picture, we will not be able to release interim results," Shalva Khutsishvili said.