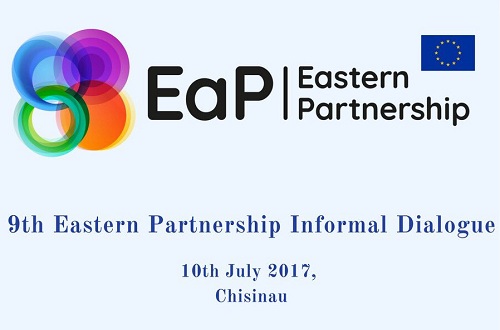 9th Eastern Partnership Informal Dialogue, July 10, 2017. Photo: MFA Moldova
Foreign ministers and deputy foreign ministers of six Eastern Partnership (EaP) countries gathered for their 9th informal ministerial meeting in Chisinau on July 10 to work on the preparations of the EaP Summit to be held in November 2017 in Brussels.

Speaking at the joint press conference of the diplomats, Foreign Minister Mikheil Janelidze said that Georgia "has gained a lot" from the Eastern Partnership initiative.

"We have materialized most of the prospects Eastern Partnership offered to Georgia: we are already benefiting from the Deep and Comprehensive Free Trade Area Agreement and the European Union has become number one trading partner for Georgia since the application of the agreement; we have visa free travel opportunity to the EU Schengen countries and we have successfully graduated from the first Association Agenda for 2014-2017," Minister Janelidze noted.

FM Janelidze spoke on the Georgia's EU integration agenda as well, saying that the "political interest of Georgia is clear for everyone – we are interested in much deeper integration and in full-fledged membership to the EU family."

At the same time, the Foreign Minister went on, "the priorities of the 2020 agenda are very much in line with our government's declared reform agenda and we are committed to work together with the European Union and Eastern partners to achieve these deliverables."

Johannes Hahn, EU Commissioner for European Neighborhood Policy and Enlargement Negotiations, who also participated in the ministerial meeting, said at the joint press conference that the sides "had a very constructive, open discussion" on the Eastern Partnership initiative, including "the expectations, visions, ownership and commitments" of the six countries.

"We are now entering into a decisive phase for preparing the Eastern Partnership Summit … The Summit is an opportunity to build on our achievements and to inject new dynamism into our relations," Hahn noted.

Georgia-Moldova Relations

In Moldova, Foreign Minister Mikheil Janelidze also held bilateral meetings with the country's officials, including with Prime Minister Pavel Filip, Parliamentary Chairman Andrian Candu, and Foreign Minister Andrei Galbur.

With Andrei Galbur, the sides spoke about the "traditionally friendly relations" between the two countries highlighting the increasing level of cooperation in the defense, justice, customs, agriculture and other areas.
"Our relations during these 25 years have developed in a very positive direction, based on friendship, mutual interest and understanding," Mikheil Janelidze noted at the joint press briefing of the two ministers.

Janelidze stressed that in the first quarter of 2017, trade turnover between Georgia and Moldova increased by 60%, but added that "there is more potential to be explored." He also expressed Georgia's "strong and unequivocal support" to the sovereignty and the territorial integrity of Moldova.

As part of the meeting, Galbur and Janelidze signed postage stamps commemorating the 25th anniversary of the establishment of diplomatic relations between the two countries.