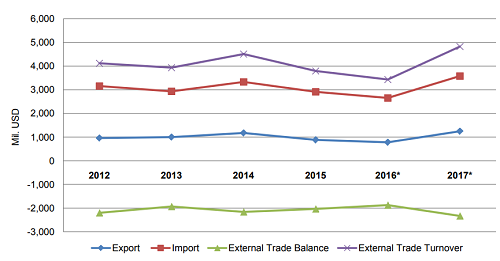 External merchandise trade tendencies of Georgia in January-June 2012-2017. Geostat
Georgia's foreign trade turnover in the first half of 2017 increased by 13.8%, compared to the same period of last year, reaching USD 4.82 billion, according to the preliminary figures released by the state statistics office, Geostat, on July 13.

Exports from Georgia increased by 31.8% year-on-year to USD 1.2 billion and imports were up by 8.6% y/y to USD 3.58 billion in January-June, with trade gap standing at USD 2.3 billion.

Geostat will release detailed figures of foreign trade for the reporting period next week.