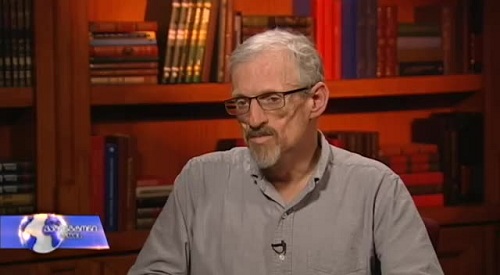 Paul Crego, Researcher at the U.S. Library of Congress. Photo: VOA
Voice of America's Ia Meurmishvili spoke on the role of the Orthodox Church in Georgia with Paul Crego, researcher at the U.S. Library of Congress. Mr. Crego has a PhD in Theology from Boston College and has studied Georgia since 1970s.

Ia Meurmishvili anchors VOA's weekly show Washington Today and can be followed on Twitter @iameurmishvili or on Facebook.

You have a unique perspective on developments in Georgia from the religion and nationalism point of view, especially as it relates to the Georgian identity. How would you summarize your observations on interrelations of these two issues in the modern day Georgia?

One might say that I am from the West and I do not understand close ties between Orthodoxy and the concept of being Georgian. Trying to make the state less secular, especially in the field of education, is a field in need of more discussion. The whole Georgian society for 70 years was not able to have those modern discussions about what it meant to be a secular democracy. Not just the Church, but the whole society still has to do that in its current incarnation. Modern Georgia is still a very young country. It takes time for the institutions to develop.

What do you think about some of the events unfolding at the Church?

One would hate to forecast the Patriarch's demise. He has been an important person in the transition. However, the next Patriarch is going to have to deal with the society in a different way than he has. Just in terms of the modern world women's issues are especially important. I know that some of my Georgian friends, who are women, really get angry at the Patriarch and the Church for its conservative views on women and violence towards woman. There are also issues of sexual orientation.

The Church also has to deal better with the minor religions. I think they have to signal to their own people that a lot of Muslims are Georgians. There has been a lot of tension in Adjara between Orthodox and Muslims. I am friends with Baptists in Tbilisi. They have been very clear about their support for human rights and how Christianity is a religion of freedom. Reading the official letters of [Catholicos-Patriarch] Ilia, I notice that there is nervousness about freedom. Not so much because they want to oppress people, but they are worried that the sort of freedom that comes from the West can lead to a lot of trouble in society.

Is that a fear of freedom or a desire to stay within the norms of Christian Orthodoxy?

I think there is definitely a fear of freedom, about what Western freedom means. There is an age-old question - is Georgia West or East, is it Europe or is it Asia. Depending on how you answer these questions and what you mean by the answers you give, there are a lot of different issues. The Church tries to sit in the middle of those discussions to be a bridge. But there is also an issue of modernity - how does the Church live in the 21st century in the country that declares itself to be Western and European and has in its laws various things that confirm this.

How important do you think the Georgian Orthodox Church as an institution is to the modern Georgian State?

It is very important. I think the Georgian Dream coalition is much more - I hate to use the word attached – but they have much better relations with the Church than Saakashvili and his United National Movement had.

Is that good or bad?

Depends on how it works out. I am reading a book on how religious tolerance and freedom have developed in Georgia. There are well-known conflicts in various places and various agencies - governmental and otherwise - do not seem to engage the issues adequately. The Church will say things that are positive about tolerance, but I think there is still a deeper way of understanding that has not been achieved. Tolerance is, in a sense, the least of positive reactions. There have certainly been problems with Jehovah's Witnesses and Muslims that have been exacerbated by members of the Orthodox community.

The Constitution itself is contradictory on this. It talks about freedom of religion and conscience and then it gives the Georgian Orthodox Church a special place. There is also a Concordat from October of 2002 that ratifies some of that special status. There are some people who think that the Concordat made the Orthodox Church a state Church. Not quite, but close, in some areas. There are many aspects to this conflict. Church property has been one of the biggest bones of contention, as has been the role of the Orthodox Church in public schools.

What kind of impact do you think this sort of conflicted view on separation of Church and State could have on development of a modern society in Georgia?

I think some of this has to be worked out in the sphere of education and the involvement of the Church in public schools. Because the Orthodox Church has the personnel and the biggest presence in public schools, if you are a Baptist or a Jew or a Muslim, you feel a bit left out. Often the only religious person seen in a public school is a representative of the Orthodox Church, often a priest. The teachers also sometimes feel that they have a special role to play in the religious education of Georgian children.

A few days ago Georgian Prime Minister Giorgi Kvirikashvili stated that secularism in its classical form has no place in Georgia. He also said that the model of separation of church and state is very unique in the country. What do you make of this statement? How do you interpret its intent?

With many Georgians, I am deeply troubled by this statement. It essentially overturns a generation of political development toward a secular model of state development. While this development has not been a straight line, if you will, this statement really does represent a different ideal. It is very much what the Orthodox Church means by its understanding of "symphonia," a Byzantine understanding of the cooperation between Church and State. As the Byzantine Empire has long been gone, so, too, this understanding is one that is not appropriate in the modern, secular world.

Do you see any danger in upsetting a fairly delicate balance in separation of church and state in Georgia – especially after the Prime Minister's statement?

The balance has already been upset in favor of the Orthodox Church. Prime Minister Kvirikashvili's statement pushes that imbalance even further from any "western" idea of a democratic society. The question I would ask the Prime Minister is now whether the Republic of Georgia is set to abandon its European/Western self-awareness. This has all sorts of implications for the Georgian society, especially in the context of human rights – especially women's rights, the rights of ethnic and religious minorities, and the rights of the LGBT community. Recently there was a "Georgian March" that brought together some of the more conservative elements of the Georgian society – these elements are among those who want closely to define "Georgian" as confined to Georgian ethnicity as well as being Orthodox Christians. There was a counterdemonstration on the next day that was led by Georgian women, thus showing, I think, that the participants in the Georgian March and the Prime Minister himself do not represent the Georgian society as much as they would like to think.

What is your observation about how the Georgian society, which has drastically opposing views on the Church's role in its development, deals with the role of the Orthodox Church?

It is a matter of how civic education is done. I do not think we [the United States] do very well in this country and we probably are not the ones to look at. I think people have been very impatient with the Georgians. Those who have worked on institution-building in the Republic of Georgia have wondered why Georgians do not just imitate the United States. I think patience is important, not from only the outsiders, but also from the people within the society. It is going to take another generation or two.

So, civic education is important - and that is not just a matter of schools and universities - but instituting a way of life that will contribute to development within Georgia. By this I mean that the Georgians need more intentionally to take into account the diversities that make Georgia a more vibrant nation.

What are your expectations of the next Patriarch?

The next patriarch does not have to be some great liberal. You are not going to have a liberal Patriarch, but someone who is moderate enough to deal with the non-Orthodox in a different way and who is able to talk about modern political culture in a way that shows understanding. Ilia, as marvelously educated as he is, having grown up under the Soviet system had a certain sort of political education. I have read quite a bit of what he has written and what he has preached. You can see the way he deals with the diversity of the people of Georgia. He generally does not engage in a way that indicates a broad education in modern political matters.

Ilia, by no means, is the most conservative. I have heard that his nephew Dimitri, who is the metropolitan archbishop of Batumi, could be in line and he is more conservative. From what I am given to understand, Dimitri would be an example of a leader of the Orthodox Church who would close the Church to further engagement with the modern world.

If that is the case, how do you think a more conservative Patriarch will affect the society and its democratic development?

If the Georgian Church begins to look even more like the Russian Orthodox Church, this will be a problem. There is the danger of being co-opted by the State. A more conservative church would also give more license to radical conservatives, who want almost a theocracy instead of democratic government and who see the Orthodox Church as the only thing that can save Georgia from divine punishment.

What do you mean in looking "like the Russian Orthodox Church"? Do you see any signs of that now?

The Orthodox Church in Russia has played a role in supporting an oppressive government, and in the context of "church/state relations" has ceded its prophetic role to become a tool of Putin and his government. This has greatly weakened the foundations of this church, as often happens when there is church/state "symphonia." The Orthodox Church in Georgia would sacrifice some its position in society if it were too closely associated with the government. Also, the attitude toward women in the Orthodox Church in Georgia is another issue in regard to which the Georgians sometimes resemble the Russians.
The material was prepared for Civil.ge by the Voice of America. In order to license this and other content free of charge, please contact Adam Gartner.