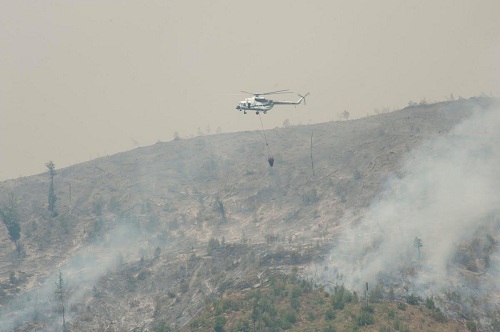 A helicopter dropping water into forest fire in Borjomi, August 22, 2017. Photo: Eana Korbezashvili / Civil.ge
Hundreds of firefighters and emergency workers continue efforts to contain forest fire in Borjomi Municipality, which erupted on August 20 near village Daba and quickly spread into the surrounding areas burning tens of hectares of forested territory.

The government's office said in a statement on August 23 that firefighters, who continued to battle the blaze throughout the night, managed to "significantly reduce" the forest fire area but some fire pockets are still remaining.

The command staff led by Prime Minister Giorgi Kvirikashvili was on spot throughout the night, the office also reported. President Giorgi Margvelashvili visited the area as well.

Two Georgian, two Turkish, one Azerbaijani and one Belarusian rescue helicopters, as well as a Turkish firefighting plane, joined the firefighting activities over the last two days. Around 95 Azerbaijani and 70 Armenian firefighters were dispatched to the area as well.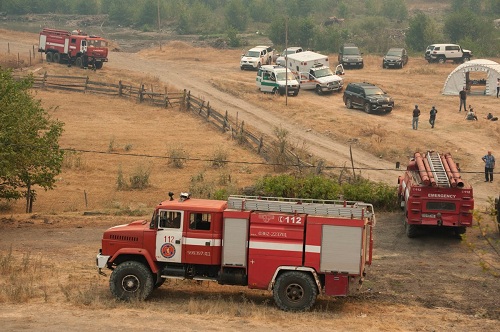 Fire engines in the forest fire area in Borjomi, August 22, 2017. Photo: Eana Korbezashvili / Civil.ge
Another forest fire in Ateni gorge of Gori Municipality, which started yesterday evening, was fully contained late-night the same day.

To coordinate the forest fire relief efforts in the two locations, President Giorgi Margvelashvili had to issue a decree on August 22 authorizing the use of armed forces upon the Prime Minister's request.

Around 250 soldiers were deployed to the area to fight the fire along with emergency workers and local volunteers. Defense Minister Levan Izoria and Chief of General Staff Vladimer Chachibaia were present as well.