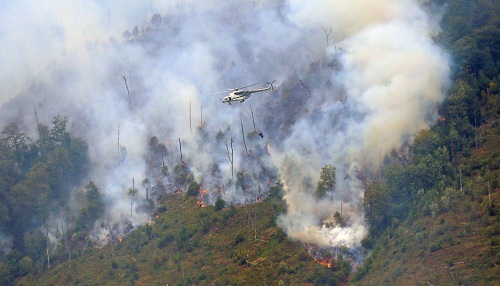 A helicopter dropping water into forest fire in Borjomi, August 24, 2017. Photo: gov.ge
Around 1500 firefighters, emergency workers and police personnel continued battling the forest fire in Borjomi Municipality, which flared up on August 20 near village Daba and quickly spread into the surrounding areas devastating reportedly around 100 hectares of woodland.

The command staff led by Prime Minister Giorgi Kvirikashvili said in a statement on August 24 that during the last four days roads totaling 12 kilometers in length were cut through the forest, paving way for fire engines and firefighters to the main fire sites.

"Main fire sites are surrounded by trenches, which rules out the possibility of fire spreading [into other areas]," the command staff also noted, adding that six rescue helicopters resumed dumping waters onto the affected areas early morning on August 24.

The command staff also stated that the air pollution level in the area "is within permitted norms" and that the Healthcare Ministry withdrew its previous recommendations for people who may have been at risk from smoke exposure.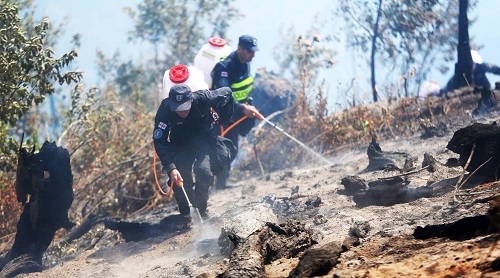 Firefighters spraying water onto the affected areas, August 24, 2017. Photo: gov.ge
Speaking to journalists on August 24 in Borjomi, Prime Minister Giorgi Kvirikashvili expressed his gratitude to Armenia, Azerbaijan, Belarus and Turkey for helping in the operation and added that a number of other countries, including Bulgaria, Germany, Greece, Iran, Israel, Ukraine, the United Kindgom and the United States, offered their assistance as well.

He also touched upon the offer of assistance made by the Russian Federation, saying that it "became a matter of active discussion." "Russia expressed its readiness to help and we believe it needs to be welcomed: we have a high responsibility towards our citizens and our country and exactly because of this responsibility and considering the very difficult relations with Russia, such a proposal needs to be welcomed," he said.

The command staff also said in its statement that several small forest fires that broke out in other areas of the country in the last few days were either entirely or partially brought under control.

Another forest fire in Ateni gorge of Gori Municipality, which started on August 22 evening, was fully contained late-night the same day. To coordinate the forest fire relief efforts in Borjomi and Gori Municipalities, President Giorgi Margvelashvili had to issue a decree on August 22 authorizing the use of armed forces upon the Prime Minister's request. The soldiers remain in the area to prevent the blaze from re-igniting.