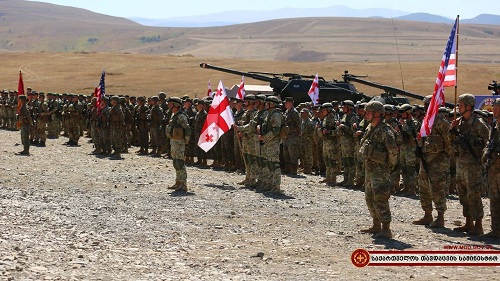 Opening ceremony at the Orpolo Training Area, September 3, 2017. Photo: MoD
The seventh iteration of the annually-scheduled U.S.-led multilateral exercise started yesterday at the Orpolo firing range, close to the town of Akhaltsikhe in Samtskhe-Javakheti region of Georgia.

Over 1500 troops are taking part in the drills, including 500 military personnel from the U.S. Marine Corps Forces Europe and Africa. Other participating nations include Azerbaijan, Bulgaria, Latvia, Romania and Ukraine. Armenian troops, who were to participate as well, dropped out of the exercise, apparently after Azerbaijan confirmed its participation.

According to the U.S. Marine Corps, the key purpose of the exercise is to enhance U.S., Georgian and regional partner interoperability and strengthen understanding of each nation's tactics, techniques and procedures.

Among the planned training events are: multinational brigade-level command post exercise and a multinational battalion-level combined arms live-fire field training exercise.
Exercise #AgileSpirit is on the horizon in Georgia! https://t.co/Vy8R9hqS8b pic.twitter.com/Y0bdA3hiNT

— Marine Forces Eur_Af (@MarForEUR_AF) August 30, 2017
As part of the military exercise, U.S. military equipment was
ferried
to Georgia's Black Sea port of Poti, including M1 Abrams main battle tanks. The U.S. army equipment was then shipped by rail to the training area.
Addressing the opening ceremony on September 3, President Giorgi Margvelashvili
emphazised
on Georgia's role in protecting the global stability and security.
"Despite having its territories occupied, Georgia is a country that treats responsibly its role in securing global peace," President Margvelashvili
noted
and added that the country has been engaged in "strengthening the values that are dear to us" since the very first days of its independence.
Defense Minister Levan Izoria, who also spoke at the opening ceremony,
said
that that the military exercise "is a yet another clear example" of the strategic cooperation of Georgia and the United States.
"With this exercise, we are strengthening interoperability of Georgia and the United States, as well as of NATO member countries and regional partners," Izoria stated, adding that "our goal is to contribute to defending common values, free societies and peace."
He also said that the through multinational exercises "Georgia becomes more stable and secure, while its army gains professionalism, becomes more resilient and confident."
Agile Spirit was initially a bilateral U.S.-Georgian military exercise held annually in Georgia since 2011 at the Vaziani military base close to Tbilisi, but since 2015 a number of other countries have joined the exercise.
The exercise comes three weeks after the end of the
Noble Partner drills
, a major annual military exercise held by the Georgian and U.S. forces together with NATO member and partner nations.