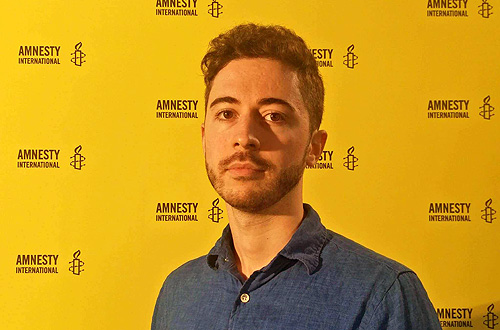 Levan Asatiani is the Regional Campaigner on Eurasia at Amnesty International's International Secretariat in London.

More than three months have passed since the Azerbaijani journalist, Afghan Mukhtarli, disappeared in Tbilisi on 29 May. The following day, Mukhtarli resurfaced in Baku, in custody, describing to his lawyer how the Georgian special law enforcement unit abducted and tortured him, and transferred him to Azerbaijan, where he is now in detention facing trumped up criminal charges of smuggling and illegally crossing the border.

Mukhtarli has worked as an investigative journalist for various independent and opposition media. In 2015, after Azerbaijan had unleashed a crackdown on dissent, he fled to Georgia with his family, fearing he was next in line. Mukhtarli continued his journalistic work in Georgia, including his investigation into corruption allegations against the President of Azerbaijan.

The Georgian authorities launched a criminal investigation shortly after the news of Mukhtarli's alleged abduction; but they were also quick to deny his allegations and expressed their surprise – indeed their disappointment - that Mukhtarli's version of events was taken for granted by many across civil society. The reason for this is simple, however: the Georgian authorities have offered no credible alternative to Mukhtarli's account.

In cases involving allegations of disappearances by state agents, the European Court of Human Rights has established that once an applicant makes "a prima facie case" of abduction by state agents, it is for that state to discharge the burden of proof, either by disclosing the evidence in its exclusive possession, or by offering a "satisfactory and convincing explanation" of what had actually happened.* The Georgian authorities have so far done neither.

In the aftermath of Mukhtarli's alleged abduction, the heads of the Georgian border police and counter-intelligence department were suspended, while an investigation was launched. However, the investigation seems to have hit a standstill. The last update in July from the Georgian Ministry of Internal Affairs was that they have failed to find any evidence on how Mukhtarli crossed the Georgia-Azerbaijan border on 29 May. Adding to the mystery, according to Mukhtarli's lawyer in Georgia, the video cameras that should have picked up Mukhtarli's alleged abduction were malfunctioning, or their contents had been erased.

The only alternative version to that of Mukhtarli's lawyers referred to by officials in Tbilisi was that of the Azerbaijani Prosecutor who stated that Mukhtarli was trying to sneak back into Azerbaijan by crossing the so-called green border on foot from Georgia. Not only is this explanation implausible – why would Mukhtarli voluntarily return to the country from which he had fled for fear of persecution, but its source is far from reliable. Azerbaijan is known to clampdown on the right to freedom of expression, having in recent years jailed dozens of journalists on trumped-up charges. Mukhtarli, who had been investigating the President of Azerbaijan for suspected corruption, would have been a likely target for repercussions from the authorities in Baku.

Two months after Mukhtarli's alleged abduction, his wife, Leyla Mustafayeva, also an independent journalist, complained that she was being followed in the streets of Tbilisi. She managed to take photos of the men and identify them as the same people who had also followed her and her husband prior to his disappearance. Mustafayeva promptly appealed to the police, and her lawyer provided investigators with photos and the names of the men. Despite the fact that this information could have offered an important clue for the investigation, the police took two weeks to question Mustafayeva, and at the time of writing she is still waiting for updates from the authorities.

The lack of progress on the investigation by Georgian investigatory bodies has been mirrored by inertia in Parliament. Controlled by a strong majority of the ruling party, Parliament has missed the opportunity to establish an investigatory commission despite calls by the Parliamentary opposition to formally make inquiries about Mukhtarli's alleged abduction.

The President has proved the exception. Instead of downplaying the gravity of the situation, he promptly urged state authorities to effectively investigate. But his is only a moral voice on this issue.

All in all, Georgia has so far failed to provide a satisfactory and convincing explanation of what happened in Mukhtarli's case. In the absence of an alternative explanation supported by facts, Mukhtarli's detailed description of the events is what we have. This, along with the lack of substantial updates on the investigation, the outright denial of the journalist's version by the Georgian government and the mysterious malfunctioning of video cameras that could have picked up crucial evidence, raises justifiable suspicions: Maybe, after all, Tbilisi does not have the will to effectively investigate the case.

The importance of Afghan Mukhtarli's case goes beyond the fate of the independent journalist. It questions respect of human rights, the rule of law and the integrity of state institutions in Georgia. Georgia failing to prove its innocence will show that despite being perceived as the champion of human rights and democracy in Eurasia, the country still has a long way to go, and that such progress as it has achieved can swiftly be undone.

* Kosumova and Others v. Russia, no. 27441/07, 7 June 2011; Aslakhanova and Others v. Russia, nos. 2944/06, 8300/07, 50184/07, 332/08 and 42509/10, 18 December 2012; Umarovy v. Russia, no. 2546/08, 12 June 2012.