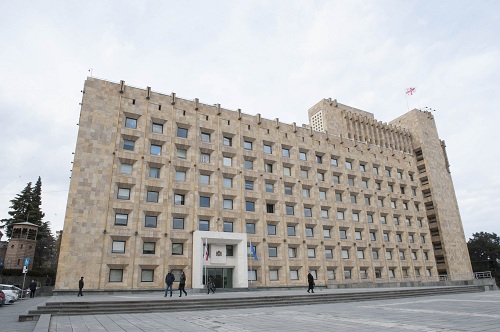 Government Building, Tbilisi, 2017. Photo: Eana Korbezashvili/Civil.ge
Georgia spent USD 847 099 for lobbying the U.S. government in 2016, the Government's press office told Civil.ge on September 15.

According to the information, the Government paid fees to the following companies last year:
Pillsbury Winthrop Shaw Pittman LLP – GEL 1 375 884.58 (USD 553 017);
The Harbour Group LLC – GEL 631 021.04 (USD 253 630);
RES – Public Affairs Corporate Affairs GmbH – GEL 96 408.36 (USD 38 750).
In the first six months of 2017, the Georgian Government paid The Harbour Group LLC GEL 197 299.46 (USD 79 301).

The Government's most recent contract, signed with StrateVarious LLC, a Virginia-based company, is active from July 1, 2017 and is to be terminated on July 1, 2018.

Under the contract, the Government is paying the company a monthly fee of USD 12,000, according to filings submitted by the firm to the U.S. Department of Justice under the Foreign Agent Registration Act.

According to the agreement, StrateVarious will "survey the geopolitical landscape of the United States continuously, with the aim of alerting the client to both opportunities for and impediments to attaching Georgian objectives to articulate US interests and policies," and help the Georgian government with "strategic narrative development."

StrateVarious will prepare messaging for Georgia's principals, including assisting in the "preparation of public addresses by the PM, FM, and Ambassador to the U.S."

The lobbying company will also "identify themes that resonate most strongly with Trump administration," and "explore how these themes can be effectively articulated and delivered to diverse consumers," such as "policy elites, Congress, media, think tanks, business organizations, foreign governments."

In May, Georgia also hired a Boston-based lobbying company Rasky Partners.