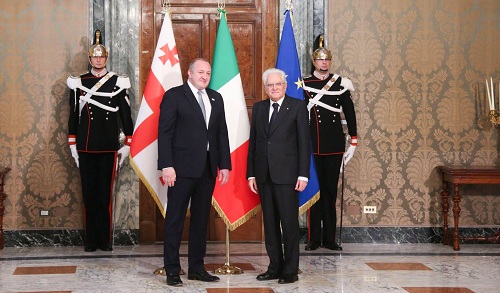 President Giorgi Margvelashvili and President Sergio Mattarella, October 16, 2017. Photo: president.gov.ge
President Giorgi Margvelashvili, who is on his official visit to Italy on October 15-17, met with his Italian counterpart Sergio Mattarella and spoke on the Italian-Georgian bilateral relations and the two countries' cooperation in international formats.

According to Margvelashvili's press office, Giorgi Margvelashvili briefed his counterpart on the situation in Georgia's occupied regions, highlighting the importance of strengthening the non-recognition policy of Abkhazia and Tskhinvali Region/South Ossetia, as well as the continued international support to Georgia on this matter.

The sides also discussed the process of Georgia's EU and NATO integration, with President Margvelashvili expressing his gratitude for Italy's support to this end. They also spoke on the two countries' defense and economic cooperation, as well as the prospects of their collaboration in the field of energy, including through the Trans Adriatic Pipeline project.

The President's press office also reported that the two leaders touched upon Italy's upcoming OSCE Chairmanship in 2018, with President Margvelashvili underlining the importance of maintaining the issues of the Georgian-Russian conflict and the internally displaced persons high on the OSCE agenda. Margvelashvili also reiterated the country's willingness to host a visit of the OSCE Heads of Delegations, which, according to the press office, "has been blocked by a single OSCE participating state since 2008."

During his visit to Italy, President Giorgi Margvelashvili will also hold a meeting with Pietro Grasso, President of the Senate of the Republic. He will also deliver a lecture at the NATO Defense College in Rome.

In Italy, President Giorgi Margvelashvili is accompanied by the Head of the President's administration Giorgi Abashishvili, the National Security Council Secretary David Rakviashvili, and Deputy Foreign Minister Vakhtang Makharoblishvili, as well as Tengiz Pkhaladze and Pikria Chikhradze - President's Foreign Affairs and Political Secretaries, respectively.