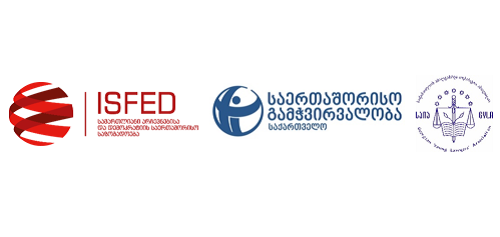 Logos of ISFED, TI Georgia and GYLA. Photo: gyla.ge
Three local election watchdogs – the International Society for Fair Elections and Democracy, the Georgian Young Lawyers Association and the Transparency International Georgia – released a joint assessment of the pre-election environment a day before the October 21 municipal elections in the country.

The joint document focuses on a wide range of issues, among them the recently approved constitutional amendments, violence and physical confrontation, pressure and intimidation on political grounds, use of administrative resources, illegal campaigning and disinformation in social networks, as well as violations identified in the formation of election administration and political party funding issues.

"The pre-election period was mostly peaceful and political parties were noticeably active," the joint document reads. "Throughout the campaign period the ruling party's dominance was evident, as demonstrated by significant imbalance in party donations and campaign expenditures."

Speaking about the constitutional amendments, as well as the changes to the election and the self-government codes, the watchdogs stated that "despite much criticism, the authorities made decisions about fundamentally important issues hastily, without consensus and consideration of different positions," which was evaluated by the organizations as the government's attempts "to concentrate political power."

The three organizations also noted that "massive incidents of violence and physical confrontation have not taken place during the pre-election period," but added that "an exception was an assault with a firearm against the ruling party's majoritarian candidate and his accompanying individuals on October 19, at night, nearby the Georgian Dream office in Kizilajlo village of Marneuli."

"Whether or not the crime was politically motivated, such grave incidents during the pre-election period harm the electoral environment," the document reads.

The local watchdogs also said that "as the Election Day drew near, cases of intimidation/harassment or threats on alleged political grounds became frequent." They also noted dozens of cases of dismissal from work on alleged political grounds, adding that most of those incidents involved attempts to threaten opposition party candidates and activists.

"In a few districts individuals registered as electoral subjects withdrew their candidacies likely as a result of intimidation," the joint document reads, adding that "in a number of instances, civil servants and teachers were demanded to work in favor of the ruling party."

The three organizations also said that a number of instances were left without a legal response. "For instance, law enforcement authorities did not look into media reports about Tbilisi kindergarten principals being instructed to collect supporter lists for the Georgian Dream," they noted.

The local watchdogs also focused on "clear imbalance in party donations and campaign expenditures" during the pre-election period. "Donations received by the Georgian Dream from June 1 through October 1 were 12 times larger than the total donations received by all other qualified subjects," the document reads. The organizations said that among 32 legal entities, 31 donated to the Georgian Dream.