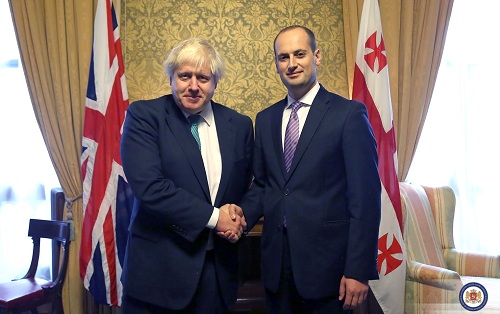 Boris Johnson and Mikheil Janelidze in London, October 23, 2017. Photo: MFA Georgia
"As I never tire of saying, and as Prime Minister Theresa May never tires of saying – we may be leaving the EU, but we are not leaving Europe, and we regard the Euro-Atlantic vocation of Georgia as being one of the key ambitions of our policy," British Foreign Secretary Boris Johnson told his Georgian counterpart Mikheil Janelidze on October 23.

"We are here to deepen and intensify the friendship between Georgia and the United Kingdom, and of course, we regard the defense and security of Georgia as of huge importance for us and our continent," Foreign Secretary Johnson said, adding that his talks with Minister Janelidze would also cover the bilateral trade relations.

"I am delighted to see that in the last year there has been 25% increase in the sale of Georgian wine to the United Kingdom and a 25% increase in the export of British tourists. That is obviously an exchange that we mean to intensify and I am looking forward very much to coming to Georgia at the earliest possible opportunity," the Foreign Secretary also noted.

"We are proud to stand together for the safety, security and development of the Euro-Atlantic community," Foreign Minister Janelidze responded. "We are developing not only our bilateral cooperation but our partnership in multilateral formats. We look forward to establishing strong legal framework after Brexit, including developing free trade and our trade-economic cooperation."

Janelidze also thanked the Foreign Secretary for the United Kindgom's "strong and unwavering support," to Georgia's territorial integrity and sovereignty, as well as its efforts to end the occupation of Abkhazia and Tskhinvali regions peacefully.

The two diplomats made the remarks in London following the fourth round of the Georgia-UK Wardrop Strategic Dialogue, an annual high-level discussion format on bilateral cooperation in the fields of security, defense and economy. This year, the Wardrop Dialogue was hosted by Alan Duncan, British Minister of State for Europe and the Americas, and attended by Georgia's Foreign and Defense Ministers, Mikheil Janelidze and Levan Izoria, respectively.
"Relations between the governments of the UK and Georgia are at an all-time high. The dialogue will provide an opportunity to discuss continued co-operation on trade, defence, and mutual values, which underpin the strength of our ties," the Foreign and Commonwealth Office said in its press release the Dialogue.

During his visit to London, the Georgian Foreign Minister will also hold meetings with Mark Pritchard, British Prime Minister's Trade Envoy to Georgia and Armenia; Greg Hands, Minister of State in the Department for International Trade; Jonathan Djanogly, Chairman of the All-Party Parliamentary Group on Georgia and other members of the Group. The Defense Minister will meet his British counterpart Michael Fallon.