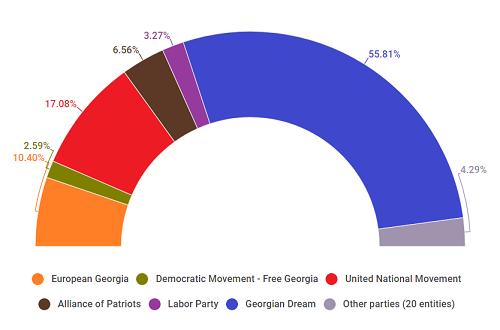 Nationwide party list support in municipal elections. Photo: Civil.ge
On October 21, Georgian citizens cast their ballots to elect 2058 members of 64 city councils (Sakrebulo) and 64 municipal mayors.

Civil.ge actively covered the election campaign, offering its weekly digest, a news compilation on political party activities, election procedures and other pre-election developments, as well as related political happenings.

The seventh digest covers the final stage of the campaign, the Election Day and subsequent developments.
For earlier pre-election developments please refer to Weekly Digests No. 6, No. 5, No. 4, No. 3, No. 2 and No. 1.

Election Campaign and Pre-Election Environment:
Election Day and Results:
Observer and Party Assessments:
According to interim reports released immediately after the municipal elections, all main local and international election watchdogs agree that the elections were held in a calm environment in compliance with democratic principles;

Among the violations, local election watchdogs focused on "the control over voters' will." In its assessment, NDI highlighted the lack of political competition, while the joint document released by OSCE/ODIHR and the Congress of Local and Regional Authorities of the Council of Europe (Congress) noted that "the predominant position of the ruling party is clear, and this affected different aspects of the elections." The U.S. Embassy to Georgia released a brief statement as well, concurring with the OSCE's preliminary report;

Municipal elections were conducted "in a largely peaceful environment, but with many shortcomings, addressing which is of crucial significance for Georgian democracy," President Giorgi Margvelashvili said in his remarks on the elections;

The United National Movement announced on October 23 that it would not participate in runoffs, citing "mass rigging, blackmail and use of administrative resources" as the reason behind its decision;

Thirteen non-parliamentary opposition parties expressed mistrust towards the election results. Their leaders announced that they would challenge the final vote tallies in court.