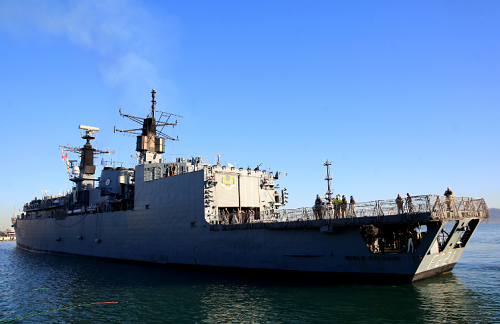 Romanian frigate Regele Ferdinand in Batumi Port, November 3, 2017. Photo: police.ge
Four NATO ships, assigned to the Standing NATO Mine Countermeasures Group 2 (SNMCMG2), are making a port call in Batumi on Georgia's Black Sea coast on November 3-6.

The maritime group, which includes the Romanian frigate Regele Ferdinand, Bulgarian BGC Shkval and Turkish TCG Edremit, is led by Vice Admiral Hervé Bléjean, Deputy Commander of the Allied Maritime Command (MARCOM).

The vessels will stay at Batumi port until November 6, and their crews will take part in joint exercises organized by the Georgian side.

The Interior Ministry, which is hosting the group together with the Bulgarian Embassy, said in its statement today that the port call is "a clear message of support for Georgia."
This is the SNMCMG2's third visit to Georgia: three vessels made a port call in Batumi in 2013 and four in 2016.

SNMCMG2 is a part of the Allied Maritime Command (MARCOM), the central command of all NATO maritime forces answerable directly to NATO's Allied Command Operations (ACO) in Mons, Belgium.

MARCOM leads the Operation Sea Guardian, a non-article 5 maritime security operation aimed at working with Mediterranean stakeholders to maintain maritime situational awareness, deter and counter terrorism and enhance capacity building.