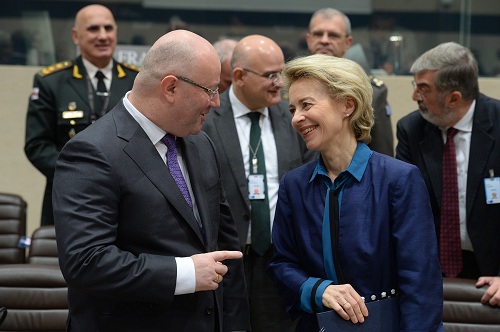 Levan Izoria and German Defense Minister Ursula von der Leyen, November 9, 2017. Photo: NATO
Georgian Defense Minister Levan Izoria participated in the meeting of defense ministers of the countries involved in the Resolute Support Mission in Afghanistan on the sideline of NATO Defense Ministerial on November 8-9.

Defense Minister Levan Izoria said in his remarks after the meeting that the discussions were "very productive." "We remain committed to our international obligations and will contribute to the mission with the same number," he noted, adding that a total of 870 soldiers would continue serving alongside NATO Allies and partners to "ensure global security and stability."

Minister Izoria also said that Georgia's contribution and participation in the Resolute Support Mission was "highlighted" at the meeting. "Special gratitude was expressed to the soldiers and the people of Georgia for their contribution to ensuring global security."

Speaking after the meeting, Secretary General Jens Stoltenberg announced that NATO would increase the troop numbers for the Resolute Support Mission from around 13,000 to around 16,000 troops, and that 27 nations committed to contribute troops in the coming months. "I strongly welcome the strengthened commitment and support demonstrated by Allies and partners," said Stoltenberg.
Levan Izoria is to travel to the United States next, where he will hold meetings with Defense Secretary James Mattis, and other stakeholders in Washington D.C.