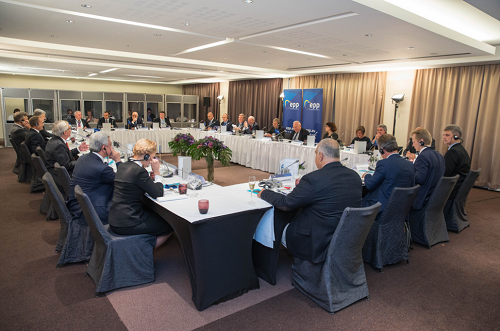 EPP Eastern Partnership Leaders' Meeting, November 23, 2017. Photo: EPP
"We acknowledge the European aspirations and European choice of the partners concerned, as stated in the Association Agreements," the European People's Party, the largest European-level political party of the center-right, wrote in its declaration ahead of the Eastern Partnership Summit in Brussels.

Senior EPP politicians from the European Union, EU Member States and Eastern Partnership countries, including the leaders of the opposition United National Movement and the European Georgia parties, held the Sixth EPP Eastern Partnership Leaders Meeting in Brussels on November 23 and adopted a joint declaration on the future of the Eastern Partnership.

According to the document, EaP needs to be enriched "in line with the principles of differentiation, strict conditionality, joint ownership, joint responsibility and solidarity, more for more and less for less."

"We welcome the establishment, and effective implementation, of visa free regimes with Moldova, Georgia and Ukraine, and we support the continued implementation of the Visa Liberalisation Action Plans to improve people-to-people contacts," reads the declaration.

The party also pledges to continue to advocate for closer cooperation with the EaP countries in the framework of a EaP+ model, which, EPP believes, should eventually lead to them joining the customs union, the energy union and the Digital Single Market.

According to the declaration, EPP reiterates its firm support for territorial integrity within internationally recognized borders and peaceful conflict resolution, and strongly supports "re-establishing the full sovereignty of Ukraine in Crimea, of Georgia in its occupied territories of Abkhazia and South Ossetia and of Moldova in Transnistria."

"We regret that Russia is refusing to fully implement the Six-Point Ceasefire Agreement between Russia and Georgia, negotiated by the EU presidency in 2008. We support the EU's active involvement as a co-chair in Geneva International Discussions addressing the consequences of the 2008 conflict," reads the document.

The party also says that many achievements in Moldova and Georgia have experienced setbacks. "Shortcomings in domestic reform, systemic corruption and weak state institutions have made Georgia, Ukraine and Moldova less resilient to hybrid challenges and Russian propaganda."

EPP is the largest and most influential European-level political party of the center-right, which currently includes 77 member parties and partners from 41 countries, the Presidents of the European Commission, the European Council and the European Parliament, 7 EU and 7 non-EU heads of state and government, 13 members of the European Commission and the largest Group in the European Parliament.

Georgia's former ruling United National Movement party joined EPP as an observer member in 2008. The European Georgia party joined the political network in September, 2017.