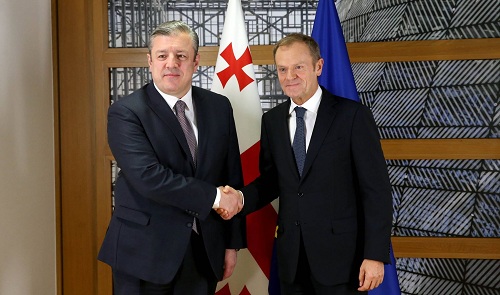 Giorgi Kvirikashvili and Donald Tusk, November 24, 2017. Photo: gov.ge
Prime Minister Giorgi Kvirikashvili, who is on a two-day visit to Brussels to attend the fifth Eastern Partnership Summit on November 24, held a number of meetings with European leaders.

Kvirikashvili held the first meeting with European Council President Donald Tusk. PM's press office reported that the sides discussed a range of issues, including EU-Georgia relations, and the situation in Georgia's occupied territories.

Similar topics were covered at Prime Minister Kvirikashvili's meeting with European Commission President Jean-Claude Juncker, with Kvirikashvili reiterating the country's readiness to take further steps to draw closer to the European Union.

Bilateral relations and the countries' European and Euro-Atlantic aspirations were discussed at Giorgi Kvirikashvili's meeting with Ukrainian President Petro Poroshenko.

"We welcome the growing bilateral relations. Our presence here is very important. We have similar ambitions, European and Euro-Atlantic goals, which define not only the external but also the internal agendas of our countries. We are here to discuss our future relations, and the potential of our bilateral relations is much deeper and much wider," Giorgi Kvirikashvili told Poroshenko.

Prime Minister Kvirikashvili held a number of other meetings on the sidelines of the EaP Summit, including with Finnish, French and Swedish Prime Ministers - Juha Sipilä, Édouard Philippe and Stefan Löfven, respectively.