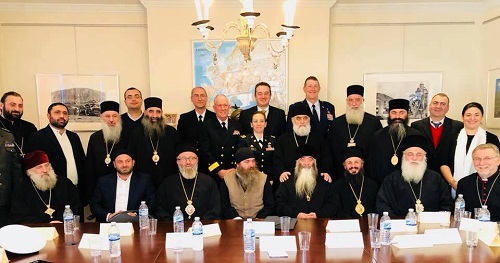 Interreligious delegation of Georgian clerics in Washington D.C., November 28, 2017. Photo: CDD
Senior clerics from the Georgian Orthodox Church, as well as the heads of the Armenian, Catholic and Muslim communities of Georgia, concluded a five-day study visit to the United States.

The visit, funded by the British Embassy in Tbilisi and organized by the Center for Development and Democracy (CDD) in cooperation with the Information Center on NATO and EU, was held from November 24 to 29.

The delegation, consisting of sixteen religious leaders, met a number of government and civil society stakeholders in Washington D.C., including Sharon Hudson-Dean, Acting Deputy Assistant Secretary at the U.S. State Department Bureau of European and Eurasian Affairs, and Carl Gershman, president of the National Endowment for Democracy.

On November 28, the delegation also participated in the interreligious conference on the role of religion in democracy and on the anti-western propaganda, organized by the National Endowment for Democracy (NED).

CDD has conducted two similar study visits, both in Brussels - on November 7-11, 2016, and on February 21-25, 2017. Previously, however, the delegation consisted of representatives of the Georgian Orthodox Church only.